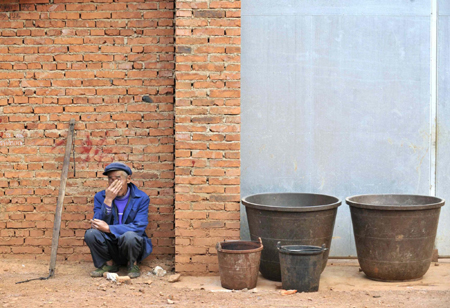 A farmer squats in front of his house as he waits for water to be delivered by the local government, at the drought-hit Songming County of Kunming, Yunnan province March 24, 2010. [Photo/Agencies] 
Local authorities in southwest China are moving to clamp down on food price hikes as the worst drought in decades shows no sign of easing.
Authorities in Guiyang, capital of the poverty-stricken mountainous Guizhou province, have indicated they would step up price monitoring and crack down on price gouging.
Vegetable vendors will be fined up to 100,000 yuan (14,650 U.S. dollars) if they are found involved in jacking up vegetable prices. The maximum fine for businesses is 1 million yuan.
In Kunming, capital of the hardest-hit Yunnan province, the local government is monitoring food prices and supply on a daily basis. Local price control and industry and commerce authorities have launched campaigns to crack down on food hoarding and price gouging.
Local governments in their neighboring regions have taken similar measures to prevent huge rises in prices of grain, edible oil, and vegetables.
The dry weather has been ravaging southwest China for months, affecting 61.3 million residents and 5 million hectares of crops in Guizhou, Yunnan, Sichuan, Chongqing, and Guangxi.
The worsening drought has damaged wide swathes of vegetables and sparked sharp price hikes. Many vegetable prices have more than doubled.