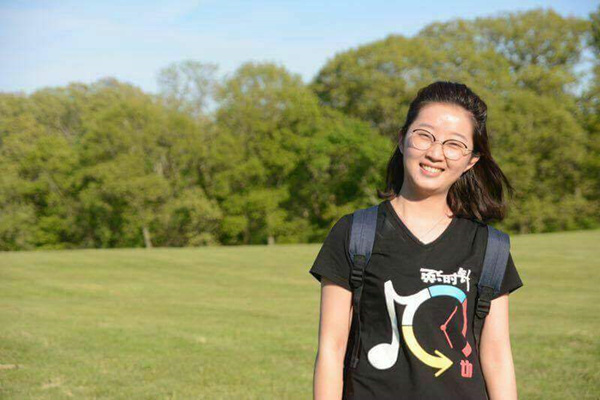 A photo of Zhang Yingying released by the police.
The disappearance of Zhang Yingying, a visiting Chinese scholar at the University of Illinois at Urbana-Champaign on June 9 has shocked many in China and the United States. As people watch closely the court trial of suspect Brendt Christensen, a serious question raised again is: How safe are US cities?
This question has become especially important for Chinese, as an increasing number of them travel to the US as tourists or send their children to US colleges to study. According to the Institute of International Education, more than 328,000 Chinese students were enrolled in US colleges and universities for the 2015-16 academic year, accounting for nearly a third of the total foreign students in the US. The figure, however, does not include a growing number of Chinese children enrolled in K-12 education schools. Besides, the number of Chinese tourists to the US hit 3 million in 2016, and the figure has been growing fast since the US loosened its visa policy in 2014.
Many Chinese know crime rates in US cities are high. Their perception has been largely shaped by Hollywood crime movies, news reports of the huge prison population and frequent mass shootings in the US. In recent years, that perception has been further fed by cases of Chinese students falling victims to violent crimes.
In January 2016, 19-year-old Jiang Yue, a student at Arizona State University, was shot dead in Tempe, Arizona, by Holly Davis after a minor incident involving their cars. In January 2014, Ji Xinran, an engineering student at the University of Southern California, was beaten to death by four people while walking home from the campus. In April 2012, Qu Ming and Wu Ying, two students also of USC, were shot dead in their car, which was parked about one and a half kilometers from the campus.
True, many US cities are safe, even very safe. But the murder rate in US is several times higher than that in China, its neighbor Canada and the industrialized nations in Europe. US President Donald Trump acknowledged this brutal reality in his inaugural address on Jan 20 when he referred to "the crime and gangs and drugs that have stolen too many lives and robbed our country of so much unrealized potential".
On June 30, Trump said he was sending federal help to fight crime and killings in Chicago that have reached "epidemic proportions". Chicago has seen 320 murders and 1,703 shooting victims so far this year. Imagine what the situation was like earlier, as I was told by a New Yorker that the crime rate has come down a lot.
Indeed, the rate of violent and property-related crimes has dropped sharply in the US since the 1990s. But it is still much higher than in many countries. The murder rate rose again in 2015, however, and appears to have continued last year. A Pew survey last November showed that 57 percent of the voters in the 2016 presidential election said crime has gotten worse in the US since 2008, a reflection of their deep concern for safety.
Many blame the easy access to guns as a major cause of the high murder rate in the US, while others point to the culture of violence, which is getting worse thanks partly to Hollywood movies and video games with violent content. Some attribute the high crime rate to the stress people are under due to the US' poor welfare system compared with other industrialized nations, for example, in terms of paid leave and free pre-school education.
The US has engaged in incessant wars since its founding 241 years ago and continues to interfere in other countries' internal affairs. It's time it looked inward and waged a war on crime to set its own house in order.
The author is deputy editor of China Daily USA. chenweihua@chinadailyusa.com