From Henan to Princeton: How 14-year-old girl made the journey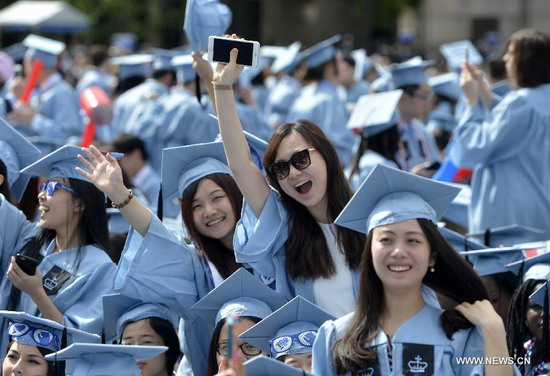 Chinese Graduates of Columbia University attend the commencement ceremony in New York City, United States, on May 20, 2015.[Photo/Xinhua]
Victoria (her English name) was 14 when I met her, but she looked older. She certainly acted more mature. She came to the Binhe Park English corner where I taught free lessons every Sunday morning for 3 hours. She always stood in front. She took in everything I said.
One day, her mother showed up with Victoria. I'd seen Victoria there for almost 2 years. I'd never met her mom or her dad. They asked if they could talk to me. Of course, Victoria's English was nearly fluent. She didn't need a translator.
She asked me if I'd write her recommendation for college. I said, "College? Are you kidding? It's a little early for you to be thinking about that." She assured me that she knew what she was talking about. I actually felt pity for her. I knew she was from the countryside. A small village near Zhengzhou. I felt it was going to be difficult to explain.
She assured me that she could do it. She'd recently done two online SAT practice exams. She'd gotten a perfect score both times. I was impressed, but still felt she was thinking all wrong about college. She had just finished middle school.
I asked her where she wanted to go to college after she insisted that she knew what she was doing. She said, "Princeton in the USA." Oh my god! I couldn't believe what she was saying. 14 years old. From the countryside and she's got Princeton on her mind. She was barely old enough to take the SAT.
I assured her that I'd help her in any way that I can. She asked again for the recommendation. So, I wrote it. I helped her do her application and write her essay. We finally got everything together to apply. I went to the post office with her and her mom and sent it off.
I didn't hear anything from her for about two weeks. She didn't even come to the English Corner. Finally, nearly a month later, she called. She asked me if I would do a Skype video interview with the admissions officer at Princeton. I was shocked. They took her seriously.
One thing I didn't know was that she'd traveled to Hong Kong to take the SAT. She did that several months before without me knowing. She'd gotten her results. She'd scored a 2240 on the SAT. Amazing! Very impressive to say the least.
I did the interview and the admissions officer assured me that they were seriously considering her application.
Some weeks later, she showed back up at the English Corner. She had a piece of paper with her that wanted to show me. It was her acceptance into Princeton University. I was in shock. Not only was she accepted, but, they offered her a full four-year scholarship. Her mother was crying. I was crying. Victoria was just happy.
Right now, she's finishing her second year there. Princeton had arranged for her mother to find employment while staying there with her daughter. Part of their scholarship money was going to pay for some living expenses. Her mom was making the rest.
Henan has a reputation that hasn't always been so good. However, one little girl from the Henan countryside is studying at one of the top, most prestigious universities in the world. She's going there for free. The cost would be about $56,000 a year. Nearly 400,000 yuan a year. But not for Victoria.