Trump's path to trade wars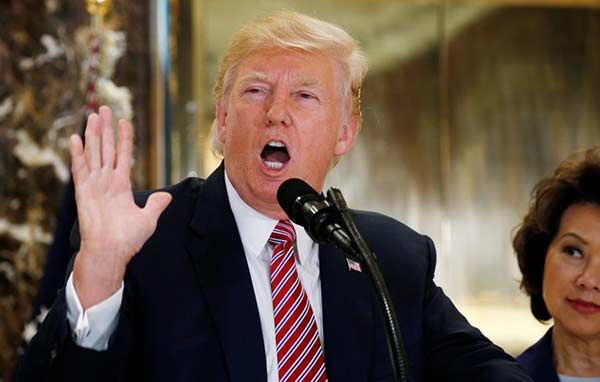 US President Donald Trump speaks about the violence, injuries and deaths at the "Unite the Right" rally in Charlottesville as he talks to the media with Secretary of Transportation Elaine Chao (R) at his side in the lobby of Trump Tower in Manhattan, New York, US, August 15, 2017. [Photo/Agencies]

As the White House is about to escalate trade frictions along with nuclear risks, global economic prospects will become more clouded and markets more volatile.
Last Friday, President Trump spoke to Chinese President Xi Jinping and said he was preparing to order an investigation into Chinese trade practices.
On Monday, he called for an investigation into China over US intellectual property (IP) practices and technology transfers. As a result, US Trade Representative Robert Lighthizer, a veteran Reagan administration trade hawk, opened an investigation against China under Section 301 of the Trade Act of 1974. The ordering of the investigation will not immediately impose sanctions, but it could lead to steep tariffs on Chinese goods.
The White House is also escalating economic tensions at a time when strategic risks loom from North Korea in Asia to Charlottesville in Virginia. Now, trade pragmatism is dead and the path has been paved to trade wars.
How Washington moved from trade pragmatism toward trade conflicts
After the Trump-Xi Florida Summit in early April, US and China announced a 100-day Action Plan to improve strained trade ties. That was the official status quo, but not the reality.
Two weeks later, Trump issued a Presidential Memorandum, which directed Commerce Secretary Wilbur Ross to investigate the effects of steel imports on national security. As Trump began to ramp up the heat, Ross stated he would present the White House a range of options to restrict steel imports on "national security" grounds.
By mid-June, Europe's NATO leaders launched an extraordinary lobbying campaign against an anticipated US crackdown on steel imports, which, they said, would hit US allies more than China. Some EU leaders were ready for retaliation if Washington would move ahead.
When the Trump administration's first US-Sino Comprehensive Economic Dialogue (CED) ended in Washington in late July, it could only agree on a canceled news conference and no joint statement.
A simple scenario, which was a major trade conflict, now overshadows the US-China ties. A more nuanced scenario was that, while the Trump administration was willing to penalize the Sino-US economic dialogue over slow progress in deficit reduction and North Korea's geopolitics, it also wanted to use the CED as a 'demonstration effect' in the impending NAFTA talks and trade reviews.
Now, the White House has returned to a trade war scenario.