Safety tips for studying abroad
Editor's note: The disappearance of Yingying Zhang, a visiting scholar at the University of Illinois, has struck a chord with many people. As the number of Chinese students in the US has grown dramatically in recent years, safety has become one of their greatest concerns. Forum readers share some safety tips to help stay safe while studying abroad.
craig32935 (US)
Learn to defend yourselves and each other. So long as you remain a non-resistant target, you will forever be a target. Also never walk alone on or off campus at night regardless of if you are a guy or girl. Carry some kind of defense item - a knife, can of pepper spray or a stun gun.
Oh and very, very important. Be aware of your surroundings at all times. Put the phone away and keep your focus on your environment. There is nothing that important on your phone that cannot wait until you get where you are going.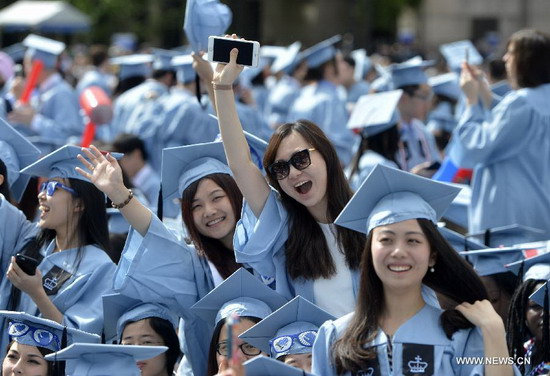 Chinese Graduates of Columbia University attend the commencement ceremony in New York City, United States, on May 20, 2015.[Photo/Xinhua]