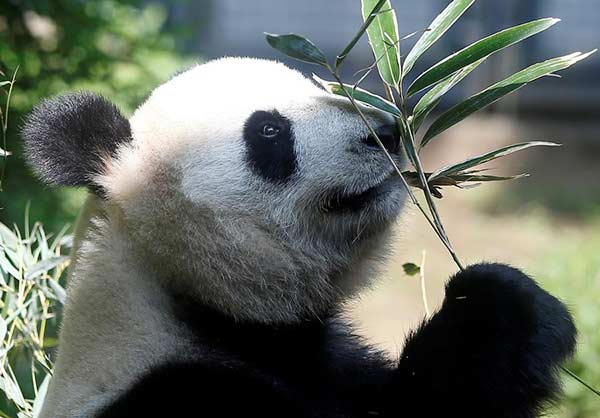 A female giant panda named Shin Shin, which zoo officials say may be pregnant, is seen through a window glass at Ueno Zoological Park in Tokyo, Japan May 19, 2017. File photo. [Photo/Agencies]
Friendship may no longer be the catchphrase in China-Japan relations. But the black-and-white cuddly creatures from China continue to endear themselves to Japanese fans. In a notice announcing the birth of a giant panda cub posted at its entrance last Monday, Tokyo's Ueno Zoo has asked visitors to maintain silence in the panda enclave. The panda father, Ri Ri, is on solo show while the mother, Shin Shin, with her cub, is now on maternity leave.
"We would like to provide her (Shin Shin) with a calm and comfortable environment so that she can concentrate on childcare," the zoo notice says.
The zoo has reason to be careful about the newborn panda. In 2012, the panda couple lost their first cub six days after it was born, reducing the zoo director to tears. In 2013, Japanese panda fans were abuzz with the news of Shin Shin's second pregnancy, which, however, turned out to be a false alarm.
Congratulating Shin Shin, for the successful delivery, Tokyo Governor Yuriko Koike is planning to ask the Japanese public to suggest a name for the newborn. And after hearing that Shin Shin has successfully delivered a cub, 84-year-old Japanese entertainer and writer Tetsuko Kuroyanagi, said: "This is the happiest moment of my recent life."
Economists see pandas as a "good investment" as they attract more visitors and increase a zoo's revenue, especially if they give birth to cubs. In fact, Katsuhiro Miyamoto, professor emeritus at the Osaka-based Kansai University, has argued that Shin Shin's delivery will boost Tokyo's economy by 26.7 billion yen ($244 million) a year, as he estimates 5.66 million visitors will visit Ueno Zoo this year, up 47.2 percent from 3.8 million last year.
Pandas are a diplomatic symbol of China's goodwill and nurture political relations. "Panda diplomacy" can be traced back to the Tang Dynasty (618-907), as Empress Wu Zetian (624-705) sent a pair of pandas to the Japanese emperor as a gift.
On Nov 4, 1972, huge crowds gathered to catch a glimpse of two "bamboo-eating creatures" Lan Lan and Kang Kang that made their debut at Ueno Zoo. They were China's gifts to Japan to commemorate the normalization of bilateral ties. Their arrival sparked a Japanese craze called "the panda boom".
In 2008, when then president Hu Jintao paid a state visit to Japan, then Japanese prime minister Yasuo Fukuda told him about Japanese people's love of pandas and hoped that China would lease pandas to Japan for joint research. Fukuda made the request on April 30, a day after the death of Ling Ling, a panda gifted to Ueno Zoo in 1992.
China stopped gifting pandas to foreign countries because of a sharp decline in the number of pandas in the early 1980s. Since then, pandas have been only leased out for joint research.
Thanks to the agreement between China and Japan, Shin Shin and Ri Ri arrived at the Ueno Zoo in February 2011. They were ready for display shortly after the destructive earthquake and tsunami struck northeast Japan on March 11, 2011, bringing some joy to Japanese panda fans.
Japanese and Chinese officials were startled by the news of Shin Shin giving birth. Japan's Chief Cabinet Secretary Yoshihide Suga described a panda, loved by many for its charming face and gestures, as "one of the great testaments to the Japan-China friendship". Calling a panda a friendly envoy of China, Chinese Foreign Ministry spokesman Lu Kang said he hoped pandas will continue to play a big role in strengthening friendship and improving relations between China and Japan, as well as other countries.
The New York Times once quoted Theodore Reed, former director of Washington-based National Zoo, as saying: "You like musk oxen, but pandas can steal your heart away." But can the panda cub born in Tokyo, with all its cuteness, help renew the friendship between China and Japan?
The answer, my friend, is blowin' in the wind.
The author is China Daily Tokyo bureau chief. caihong@chinadaily.com.cn