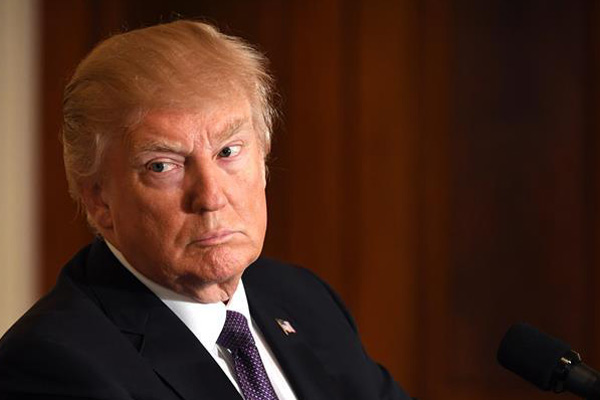 US President Donald Trump attends a press conference at the White House in Washington DC, on April 12, 2017. [Photo/Xinhua]
Starting with his tightly-scheduled meetings with European Union leaders on Thursday in Brussels, US President Donald Trump and EU leaders are expected to start swirls of bargains on how to reshape the trans-Atlantic partnership and lead the changing world.
Trump, who called Brussels a "hellhole" during his election campaign, is expected to arrive in the Belgian capital and EU headquarters amid "not welcome" protests in Rome and Brussels on Wednesday, after his whirlwind visits to Israel, Saudi Arabia and a meeting with Pope Francis in Rome.
During his stay in Brussels, he is scheduled to meet the Belgian king and prime minister on Wednesday, take part in a EU-US leaders' meeting, and "compare opinions" with new French President Emmanuel Macron over lunch before attending the NATO leaders summit on Thursday afternoon. He will then fly to Italy to attend the G7 summit on Friday and Saturday.
Trump will return to Europe to attend the G20 summit in Hamburg, Germany, in early July, which will provide another opportunity for the EU and US leaders to inject new impetus into their partnership.
The detailed agenda of the discussion between Trump and EU leaders is still unknown. But the pressing and challenging topics cannot be discussed in a day. For example, Trump may discuss about the restart of the talks on Transatlantic Trade and Investment Partnership, which would be tricky given that Trump pulled the US out of the Trans-Pacific Partnership agreement, a deal that his predecessor Barack Obama had struck with the major Asia-Pacific economies, with the exception of China.
Beijing and Washington put in place an effective mechanism after President Xi Jinping met Trump in April, and it is now necessary for Brussels and Washington to follow suit.
But Trump must know how Europeans view his presidency. Observers in the EU were shocked by his victory in the US presidential election. They are still disappointed with his "American First" policy and what they perceive as an inward-looking and unstable governance approach.
Since Trump may still not be clear about the roles of various EU institutions, just like he confused European Council President Donald Tusk with European Commission President Jean-Claude Juncker, he needs to do enough homework to build trust with the EU leaders.
But apart from building mutual trust, the leaders of the two sides should also discuss how the EU and the US, which account for roughly half of the world's economic output, should shoulder more global responsibilities. And while doing so, the two sides should review the lessons learned from the financial and debt crises that originated in the US and the EU, respectively. They must also discuss how to fix their own governance loopholes to prevent the negative effects from spilling over into other economies and thus the global economy.
Domestic economic stability is essential for the US and the EU to take the global leadership, and both economies are back on track. But they now face another problem: political division that has lowered people's interest in the democratic process and domestic politics.
Many say the West is facing its biggest political crisis since the global financial crisis of 2008. Only after Western leaders squarely face up to their economic and political challenges can they take up their global responsibilities in a more constructive manner. And Trump must be cautious enough to not let the US default on its global responsibilities. For example, some EU opinion leaders say that if Trump does not implement the Paris climate pact, the EU will push the rest of the world to enforce it without the US' participation.
For the US to play a better role on the global stage, Trump's European tour can give him a chance to review the trans-Atlantic alliance and reshape future relations.
The author is deputy chief of China Daily European Bureau. fujing@chinadaily.com.cn