Security guards role model of learning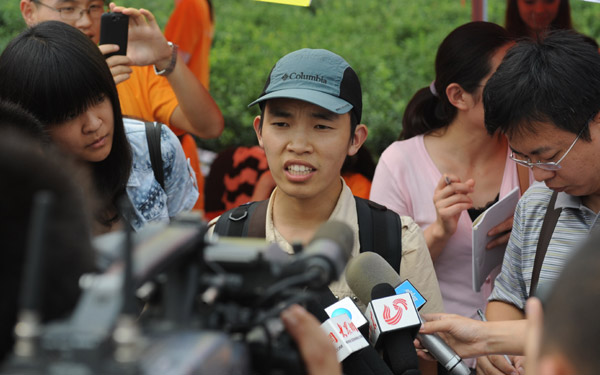 Jia Zuosheng, 27, a former security guard at Tsinghua University, drew wide attention after his admission to Shandong Normal University. [Photo/China Daily]
MORE THAN 500 ON-CAMPUS SECURITY GUARDS at Peking University, one of the most prestigious universities in China, have reportedly managed to gain access to a degree course at the university over the past two decades by taking self-study courses and continuing education examinations for adults. People.com.cn commented on Thursday:
Self-taught education seems to have become something of a tradition for many security staff at Peking University, most of whom do not have a college degree and later manage to get one through continuing higher education.
A 41-year-old former security guard at the university, who is now head of a vocational school in North China's Shanxi province, earned a degree in law from the university in 1998. He only had a junior middle school diploma before he passed the university's entrance examination for continuing education pursuers.
There are many employees at other universities who have gained access to degree courses after self-taught education. Their success, as some argue, may have something to do with the inspiration they draw from campus life: The hard-working students who are about the same age as the security guards could motivate them to study.
Whether these security guards who become college graduates are a sign of improving upward mobility remains to be seen. However, the self-motivational success of security guards, whose job may be undesirable to many, heralds a promising change in how people see career boundaries. It adds weight to the fact that self-study and hard work can make a major difference to people's lives. It is never too late to pick up where one has left in terms of education.
For those with a high school diploma aiming at higher education, their best option would be to take continuing education courses and apply for a degree.
The cultural diversity of colleges and the admission system also deserve much of the credit, because they render support to all qualified candidates regardless of their background.
The inspiring stories of these security guards are evidence of the positive changes a university can bring to the neighborhood besides educating its own students. And continuing education, which allows one to spend his or her spare time in pursuing higher education, is more than welcome in the country.