Security guard turned educator shows anything is possible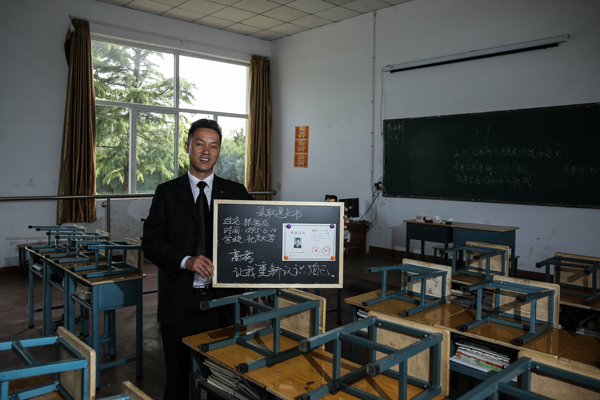 Zhang Juncheng shows the letter of admission issued to him by Peking University. [Photo/Beijing News]
From security guard to college student, Zhang Juncheng changed his life and is now inspiring students at a vocational school he founded, reported Beijing News. 
As the head of a secondary vocational school, Zhang Juncheng does not avoid to tell his students that he used to be a security guard when he was a young man.
The 41-year-old from Changzhi, North China's Shanxi province, believes a person's position in society is not decided by others, but their own efforts.
Back in 1995, Zhang, who had just graduated from a junior middle school in Changzhi, tried different jobs before being hired as a security guard at Peking University.
Standing at the gate of the prestigious university, Zhang was content at first.
"I was ignorant then," recalled the man.
He only changed his mind after he read a story from an ancient book. The story is about the cart driver for Yan Ying, a famous politician from the State of Qi in the Spring and Autumn Period (770-476 BC). The cart driver was arrogant because he worked for such a big name like Yan.
One day when the driver returned home, his wife told him she wanted a divorce. The woman said her husband was so arrogant whereas Yan Ying, a high-ranking official, was modest. The driver then realized his shortcoming and became a modest person.
Another thing also left a deep impression on Zhang's mind. One day on duty, he saw an elderly man riding a bicycle towards the gate. When the man went by him, he nodded and said to Zhang "Thanks for your hard work."
Zhang did not expect such a respect from the man and was amazed to later find out that the man was the president of the school.
At Peking University, Zhang embarked on his road of learning thanks to the help from several teachers.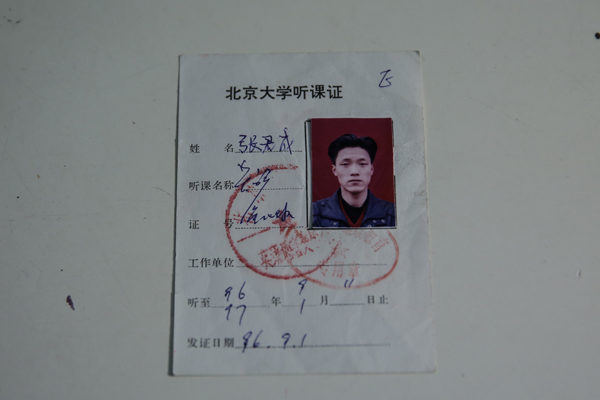 Zhang's permit for English class at Peking University. [Photo/Beijing News]
Zhang Yushu, a foreign language professor, liked talking about philosophy with the young security guard and recommended lots of good books.
Another professor called Zhang Xuecheng encouraged him to read more and "make a plan for his life".
Under the guidance of teachers like them, Zhang started reading diligently. He liked reading literary, philosophy and history books. When he got off work, he read books, transcribed books, and wrote a diary. When the dormitory's lights went out, he continued to read by torchlight under his quilt.
The head of the security guard team later extended the time of lighting in the meeting room so that Zhang and several other co-workers could read at night.
Another incident at the university struck Zhang.
One day, Zhang blocked seven foreign students from entering campus because they didn't have the right ID cards. Not knowing each other's language, both parties refused to give in. Later, the foreign students left, gesturing to Zhang thumbs-down to show their anger.
Upset at the way things had gone, Zhang reflected on the incident, determining that it was because he did not understand English that the incident had got ugly. So, he started teaching himself the language.
He used his spare time on duty to read and his efforts were spotted by Cao Yan, an English professor at the school. The teacher gave him permits for English class and encouraged him to sit for the national college entrance exam for adults.