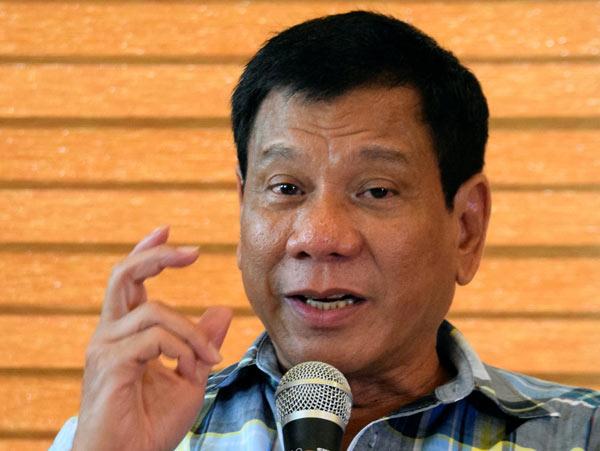 President-elect Rodrigo Duterte speaks during a news conference in his hometown Davao City in southern Philippines, May 16, 2016. [Photo/Agencies]
As Philippine President Rodrigo Duterte's special envoy, Fidel Ramos has become an icebreaker in Sino-Philippine relations. Former Philippine president Ramos' recent visit to Hong Kong to meet with "Chinese friends", including senior diplomat Fu Ying, is a good start to ease the tensions after an arbitral tribunal ruled in favor of Manila in a South China Sea dispute with Beijing last month.
But the question now is: How the two sides can improve relations? Under current circumstances, the rational choice would be to conduct practical cooperation for the benefit of both sides while keeping a low profile on the diplomatic front.
Since being elected in May Duterte seems to have adjusted the foreign policy of his predecessor Benigno Aquino III. Duterte is much friendlier toward China and has met with the Chinese ambassador to Manila a few times.
Interestingly, some former Asian state leaders labeled "pro-China" failed to successfully conclude their leadership roles.
Yukio Hatoyama, for example, resigned as Japan's prime minister in June 2010 after less than one year in power. Hatoyama courted controversy at home for his pro-China foreign policy.
Though there is little evidence to show Washington's role in these developments, the United States will certainly not be happy to see a pro-China leader assume power in a South Asian or Asia-Pacific country while it implements its "pivot to Asia" strategy. But it is also not in China's interest to see another Aquino III-style leader in its neighborhood.
It is still premature to say whether Duterte will tilt toward Beijing, especially when an increasing number of Asian countries-Sri Lanka and Myanmar, for example-are balancing their acts between great powers. The Philippines under Duterte's leadership could use a similar strategy.
If China sees Duterte's leadership in its national interest, it should not push him too hard to tilt toward Beijing. In this context, Ramos' recent visit to Hong Kong made sense because a high-profile Philippine leader's visit to the mainland at this stage could unnerve the US and Japan and thus could backfire.
With the Asia-Pacific witnessing greater power rivalry, it would be irrational to analyze Beijing's ties with Manila only on a bilateral level, as the influence of the US and Japan must be taken into account. Chinese and Philippine leaders will have more occasions to meet in the near future, including at the ASEAN-China Summit in Laos in September.
In the meanwhile, Beijing should focus on practical cooperation with Manila in areas like infrastructure, agriculture, fishing and tourism to benefit the people of both countries.
Poor infrastructure is, arguably, the biggest hurdle faced by the Philippines and other ASEAN countries in their pursuit of long-term development. And China can help the Philippines on this front.
Such efforts are not likely to help resolve the maritime dispute, but they can push bilateral ties forward. Moreover, the maritime dispute has not stopped the two countries from exploring cooperation. In late July, Northwest China's Ningxia Hui autonomous region signed a landmark agreement with the Philippines' Palawan province, the first of its kind since the South China Sea arbitration.
Also, during their informal discussions in Hong Kong, Ramos and Fu explored possible human and ecological security options and suggested cooperation in fields such as fishing, tourism, trade and investment, and the fight against corruption to benefit both sides. Through their suggestions, Ramos and Fu emphasized the prospects of practical cooperation for the two countries.
The author is a staff writer on foreign affairs and international relations.
zhanghaizhou@chinadaily.com.cn