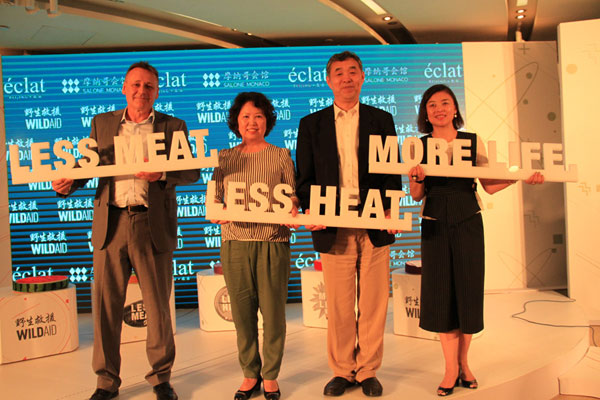 Peter Knights (Left), executive director of WildAid, Li Junfeng (Second Right), Director General of China's National Center for Climate Change Strategy and International Cooperation, Yang Yuexin (Second Left), President of Chinese Nutrition Society, at the release of "5 To Do Today" report in Beijing on June 20, 2016. [Photo/chinadaily.com.cn]
Feng Yongjun, a resident in Mianyang, Southwest China's Sichuan province, had the habit of sending banderoles to local government departments praising them for their good performance, which were all accepted. Recently, however, he tried to send one to the local environmental protection bureau criticizing it for not tackling the pollution in his village. He was detained and charged with a criminal offense. Beijing Times commented:
It seems the local officials in Mianyang can only be praised, not criticized. By asking the police to detain Feng just because he sent a complaint, they have actually tried to hinder him from exercising his legal right to criticize public power.
More importantly, the local police detained him and charged him with staging an illegal public demonstration. According to the country's Criminal Law, it is illegal for people to hold a public demonstration without police approval, and if they refuse to end the demonstration when ordered to do so, the police can detain them. But this does not apply in Feng's case, as he did not hold a public demonstration, he only sent a complaint to the local bureau of environmental protection.
Every citizen has the right to complain to, even criticize, the government. Sending a complaint, even in this way, is exercising this right. If the local police detain a person for this they are denying people this right.
There have been many similar reports about citizens being detained for sending complaint banderoles to government departments, although without being charged. This shows that people are increasingly aware of their right to complain about governments, while government officials remain ignorant of people's rights and often prevent them from exercising their rights.
Also, the local environmental protection bureau should be investigated. Has it failed in its duty to protect the local environment? Feng said they stood idle when his village suffered from pollution and simply issued a notice after villagers repeatedly reported the pollution to them, without taking any real measures. If that's true, the local environmental bureau officials should pay for their inaction or misdeeds.