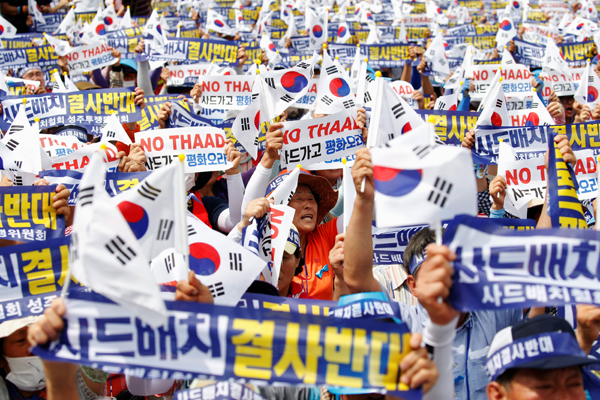 File photo shows Seoungju residents chant slogans during a protest against the government's decision on deploying a US THAAD anti-missile defense unit in Seongju, in Seoul, South Korea, July 21, 2016. The banner reads "Desperately oppose deploying THAAD". [Photo/Agencies]
China has not banned the Republic of Korea's entertainment products and showbiz celebrities in response to Seoul allowing the United States to deploy the Terminal High-Altitude Area Defense system on the ROK soil. Despite that, however, Chinese consumers might be avoiding pop cultural products from the ROK, because Seoul's decision has created a challenge for future China-ROK ties.
Before Seoul and Washington jointly announced the deployment plan on July 8, China advised the ROK not to make any further moves in that direction, but to no avail.
As of now, it appears, but without much basis, Beijing is stepping up efforts against Seoul's decision on THAAD by restricting cultural and cultural products' exchanges with the ROK. Whether such exchanges will be officially stopped remains unclear, and such a decision largely depends on how the ROK responds to China's objection.
The purported restriction on the flow of ROK's cultural products, especially showbiz products, into the Chinese mainland market, should give the ROK citizens the impression that China is deeply concerned over the deployment of the antimissile system.
Beijing has to keep reminding Seoul that the deployment of THAAD on the Korean Peninsula is more of a political issue. In other words, a line has to be drawn in their bilateral ties, however close they may be, when it comes to vital security issues like THAAD's deployment.
The deployment of the anti-missile system on the ROK soil also carries important political implications: Seoul is participating, if not endorsing, Washington's so-called pivot to Asia strategy, which apparently is aimed at containing Beijing.
China will surely strike back if its national interests come under threat. What the ROK should do now is to cancel or at least stall the THAAD deployment plan, and seek candid and sincere talks with China to resolve the issue. As the most sensitive part in any bilateral relationship, security concerns always go unnoticed before they take a toll on economic and cultural exchanges.
It is possible that the Chinese people may vote with their feet and avoid visiting the ROK, a popular overseas destination for many Chinese tourists and students, as many of them are getting anxious about the deteriorating bilateral ties. The deployment of THAAD in the ROK will almost certainly set a ticking time bomb in the two peoples' minds, as well as bilateral economic ties.
Time is of the essence for both countries and they should negotiate over the THAAD issue at the earliest. It could lead to a sorry state of affairs if the ROK misses the narrow window of opportunity to recalibrate Beijing-Seoul relations.
The author is a researcher in Asia-Pacific strategy at the Chinese Academy of Social Sciences.