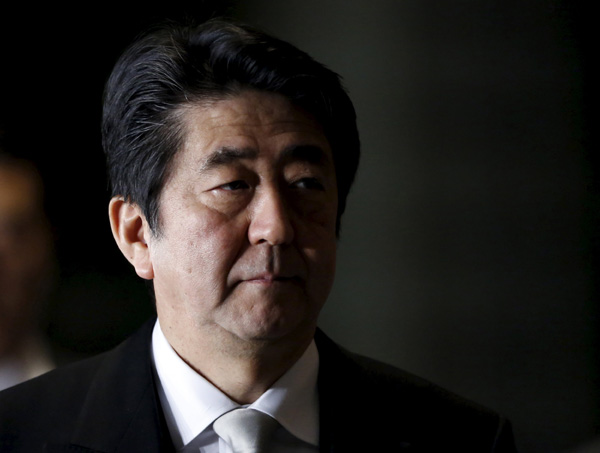 Japan's Prime Minister Shinzo Abe walks into his official residence in Tokyo, Japan, January 28, 2016. [Photo/Agencies]
Given that Japan caused untold suffering with its war of aggression in the 1930s and 1940s, it should feel deep remorse for its actions and do what it can do to gain the understanding of Asian countries, including China.
However, Japanese right-wing politicians have chosen not to do so. Instead, they seek to stir up the South China Sea disputes and fuel tensions in the region.
Shortly after the international tribunal made its ruling on the case unilaterally initiated by the Philippines on its territorial dispute with China in the South China Sea, Japan's Foreign Ministry declared that the award was "final" and should be binding, in total disregard of China's previously stated stance that the ruling is null and void and it would neither accept nor participate in the process. Japanese Prime Minister Shinzo Abe even attempted to include the South China Sea as a topic for discussion at the 11th Asia-Europe Meeting in mid-July, but failed after meeting resistance from many participating countries.
Despite this failed attempt, Japan still tried to persuade members of the Association of Southeast Asian Nations to issue a joint statement on the arbitration ruling at their foreign ministers' meeting, but once again this was resisted. The foreign ministers of Japan, the United States and Australia did, however, issue a statement on that occasion expressing "grave concerns over the maritime disputes in the South China Sea" and calling on the parties concerned to abide by the "binding arbitral verdict".
In a white paper issued by its defense ministry on August 2, Japan went even further attacking what it described as "China's attempt to change the status quo in the sea by force" and once again unreasonably demanding China accept the arbitration ruling.
With such activities, Japan has fully exposed its attempt to push for an "international circle of containment" against China and such unconcealed intentions should prompt vigilance from peace-loving people.