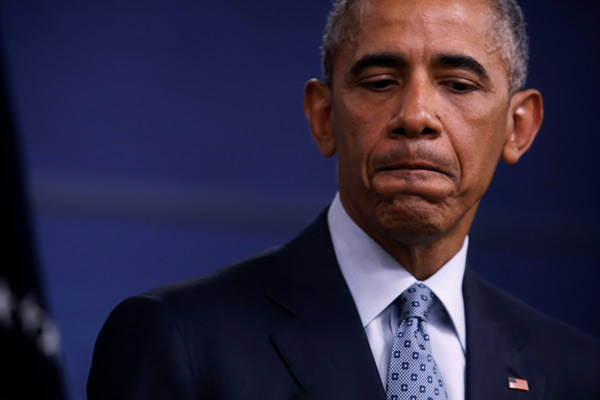 US President Barack Obama holds a news conference at the Pentagon in Arlington, Virginia, US August 4, 2016. [Photo/Agencies]
US presidential candidates may be forgiven for talking nonsense in a bid to win more votes, but President Barack Obama doing so is simply irresponsible.
Obama has been talking nonsense in his desperate effort to push the Congress to ratify the Trans-Pacific Partnership agreement amid widespread public opposition. Past trade deals, such as the North America Free Trade Agreement, are blamed for costing US jobs and hurting communities. The public resentment over the TPP is so strong that Democratic presidential nominee Hillary Clinton has made a U-turn on it, from calling it gold standard to opposing it. Protesters against the TPP were a major presence both inside and outside the Democratic National Convention arena in Philadelphia two weeks ago. Many Democrat Congressmen have also found opposing the TPP is the correct political line for them to be reelected this fall.
At a joint press conference with visiting Singaporean Prime Minister Lee Hsien Loong on Aug 2, Obama was asked about the challenge of getting the TPP ratified during the "lame-duck" session.
It is true the TPP may benefit US corporations, but Obama has not made a convincing case that it is good for the US workers who might risk losing their jobs. The US government, including during the past more than seven years under Obama, has done a poor job of adopting measures to minimize that impact. But instead of addressing the real concern of US workers, Obama seems to believe that spreading fear against China is a more effective way to achieve his goal.
So with Lee standing to his right, Obama told the press conference that, "if we don't establish strong rules, norms for how trade and commerce are conducted in the Asia-Pacific region, then China will," adding that "they are sure not worried about labor standards, or environmental standards, or human trafficking, or anti-corruption measures".
While Clinton and Republican presidential nominee Donald Trump exhibit to the full their skills of slandering each other on the campaign trail, Obama has shown that he is no less a pro.
Corruption is a serious problem in China, but President Xi Jinping has launched the strongest and most popular anti-corruption campaign. The country's new labor law also provides much better protection for ordinary workers. Indeed, China has become a global leader in fighting climate change and has played a vital role in the Paris climate agreement.
Human trafficking, albeit illegal under law, is still a thorny issue in China. But to say China is not worried about human trafficking is just as absurd a lie as saying China does not care about labor, environmental standards and corruption.
The US president so desperately wants to leave the TPP as his legacy that he is willing to say and do anything no matter how despicable they are. Despite the State Department's annual human trafficking report pointing the finger at every other country except the US, human trafficking, a modern form of slavery, is a serious problem facing that country, especially in the southern states of California and Texas.
The US Justice Department estimates that 17,500 people are trafficked into the US each year, but the real number is believed to be higher. The figure for labor and sex trafficking is also astonishing. An article by Priscilla Alvarez in the Feb 23 Atlantic monthly magazine detailed how sex trafficking goes rampantly unnoticed in the US.
On corruption, the Gallup poll released in September 2015 is the best evidence. It shows that 75 percent of Americans perceived corruption as widespread in their country's government. The figure is up from 66 percent in 2009, the year Obama took office.
When more Americans have become aware of their politicians' superb skills of spreading fear, especially in this election season, Obama's deception is most likely to prove futile.
The author is deputy editor of China Daily USA. chenweihua@chinadailyusa.com