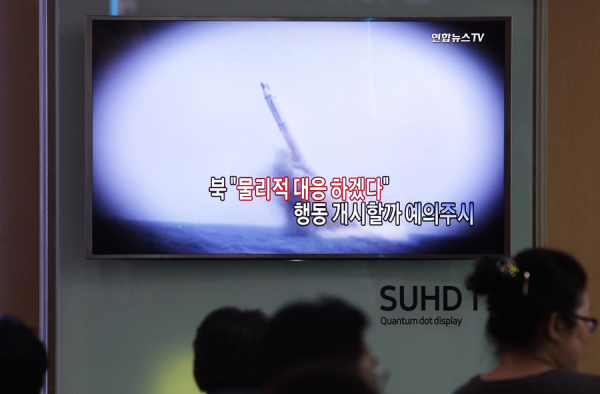 ROK residents watch a television broadcast reporting the deploying the Terminal High-Altitude Area Defense (THAAD) at the Seoul Railway Station on July 13, 2016 in Seoul, the ROK. [Photo/VCG]
Public opinion in the Republic of Korea is divided over whether the deployment of the United States' Terminal High-Altitude Area Defense anti-missile system is in the national interest.
Many of those in their 20s, 30s or 40s disagree with the decision. And anti-THAAD lawmakers have demanded an open debate in the National Assembly to discuss whether the THAAD is really in the ROK's interests militarily, diplomatically and economically.
THAAD is incapable of defending against the potential missile threat from the Democratic People's Republic of Korea, as the DPRK's missiles travel at a lower altitude than those THAAD is designed to intercept. Even if that was not the case, one THAAD battery would not be able to provide protection against all the DPRK missiles. The capital Seoul and its adjacent metropolitan area, the country's most populous regions, are even outside the protection range of THAAD.
However, the system's X-band radar has a range of at least 2,000 km, which is the real reason the United States wants it deployed in the ROK as it will be able to snoop deep into Chinese and Russian territories.
Seoul claims that it will adopt the radar with a detectable range of 600-800 km, but the mode change can be made at any time in accordance with the needs of the US military that will operate the THAAD battery in the ROK.
If THAAD is deployed, it will sour the ROK's relations with China and Russia, trigger an arms race and damage trade. It will make it difficult for the country to seek cooperation from China and Russia in denuclearizing the peninsula.
Seoul should heed the voices saying the only way to denuclearize the peninsula is through peace talks and changing the armistice treaty after the 1950-53 Korean War into a peace treaty.