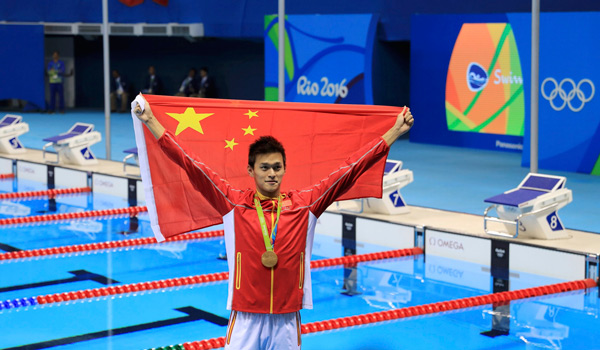 Sun Yang of China holds the national flag after winning the gold medal. [Photo/Agencies]
Unlike in past games, China did not win any gold medal on the first day of the Rio Olympics. But instead of criticizing those sportsmen and women who failed to finish top of the podium, the majority of fans spoke well of their efforts.
Chinese swimmer Sun Yang received many words of comfort and understanding for his tears after winning the silver medal instead of the hoped-for gold in the men's 400-meter freestyle.
And swimmer Fu Yuanhui won people's hearts with her forthright words when she was interviewed after she broke her own personal best in a preliminary heat of the women's 100 meter backstroke to reach the final.
"I'm quite satisfied with myself. I've exhausted all my strength," she told her interviewer.
When asked whether she expected to win a medal in the final, she said, "No. I have done well so far; this is enough for me to be satisfied with myself."
Such frank remarks from the bottom of her heart were in sharp contrast with the words of others, who will seek to link the achievements of Chinese sportsmen and women to patriotism or tried to give them some political meaning.
Instead of belittling Fu for not doing the same, the majority of sports fans appreciated her genuineness and honesty and shared in her obvious delight in her own best performance.
It seems the majority of Chinese fans are learning to enjoy international sporting events for the sports rather than as a competition for national pride.
It is understandable and natural for sports fans to get excited when their country's athletes win a medal. But that should be only part of what the competition in the arena means to both the competitors and the audience.
Applauding the achievements of those countrymen and women who win medals is their due, we should also appreciate the efforts of the other competitors; they too want to do their best. We should enjoy the competition and the spectacle, but also the personal stories of the sportsmen and women themselves; they are people first, not just flag-bearing signifiers of national status.
Of course, we want to see our athletes win as many medals as possible, gold medals in particular. But we should applaud and enjoy the achievements of all our sportsmen and women as long as they have tried their best.