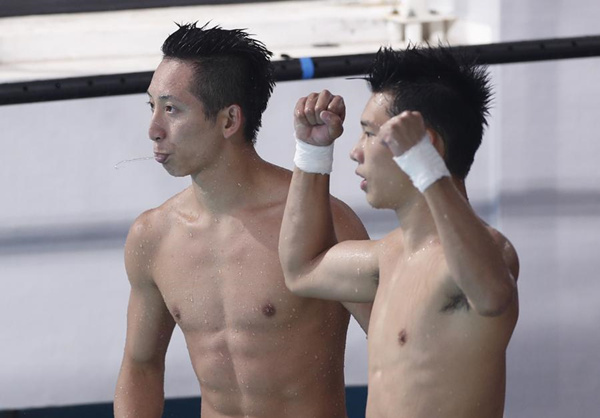 China's Lin Yue (left) and Chen Aisen celebrate after the competition of men's synchronised 10m platform final at the Rio Olympic Games in Brazil, August 8, 2016. [Photo/Xinhua]
RIO DE JANEIRO -- Lin Yue and Chen Aisen secured China's second diving gold medal at the Rio Olympics on Monday by winning the men's synchronized 10m platform.
Lin and Chen posted an overall score of 496.98 points, to finish ahead of US pair David Boudia/Steele Johnson (457.11) and Great Britain's Thomas Daley/Daniel Goodfellow (444.45).
It was Lin's second Olympic gold medal in the event after his victory at the Beijing 2008 Games alongside Huo Liang.
The result at Rio's Maria Lenk Aquatics Centre means China has won both of the diving gold medals to have been decided so far at the Rio Games.
On Sunday, Wu Minxia and Shi Tingmao took out the women's synchronized 3m springboard title.
Following are the results of the men's synchronised 10m platform final at the Rio Olympic Games here on Monday:
1. Chen Aisen/Lin Yue, China, 496.98
2. David Boudia/Steele Johnson, United States, 457.11
3. Thomas Daley/Daniel Goodfellow, Britain, 444.45
4. Patrick Hausding/Sascha Klein, Germany, 438.42
5. Ivan Garcia/German Sanchez, Mexico, 423.30
6. Maksym Dolgov/Oleksandr Gorshkovozov, Ukraine, 421.98
7. Viktor Minibaev/Nikita Shleikher, Russia, 417.57
8. Jackson Rondinelli/Hugo Parisi, Brazil, 368.52