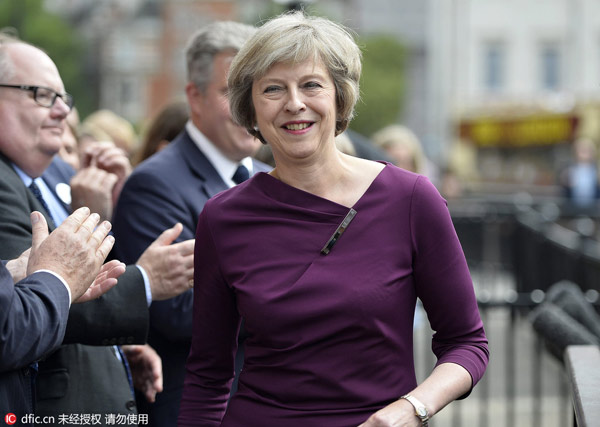 British Home Secretary Theresa May speaks to the media outside The Houses of Parliament in central London, Britain, July 7, 2016. [Photo/IC]
British Prime Minister Theresa May is displaying a different governance approach from her predecessor David Cameron, as indicated by her decision to halt some economic programs initiated by previous government. For instance, her decision to review the building of the Hinkley Point C nuclear power plant.
The project,which was being invested in by China, was seen as cementing a "golden era" of relations between Beijing and London.
The decision to review the project has raised concerns that May's government may take a less favorable stance toward Chinese investment than the previous government and thus sour ties with Beijing. After the decision to review the project was announced, the Chinese foreign ministry said China hopes Britain will reach the decision to go ahead with the plant as soon as possible to ensure the project's smooth implementation. In saying this, the Chinese side has restrained its dissatisfaction and exhibited a willingness to give the new British government time to become familiar with the project.
However, May's decision has sparked concern about whether the good momentum in bilateral ties will be maintained. In a recent interview with the Daily Telegraph, Vincent Cable, former British secretary of state for business, hinted that May is prejudiced against Chinese investment. Cable also mentioned that May, when in the Cameron Cabinet, was opposed to making it easier for Chinese businesspeople to get visas. Despite the remarks made by her spokeswoman on Monday that Britain will continue to seek a stronger relationship with China, the policy change made by May does usher in uncertainties.
May is yet to tackle a series of thorny problems emanating from Brexit. But the British leader should know that Britain needs China more than China needs Britain. The effort to advance pragmatic cooperation with China and prevent ties with Beijing becoming chilly is in Britain's long-term interests.