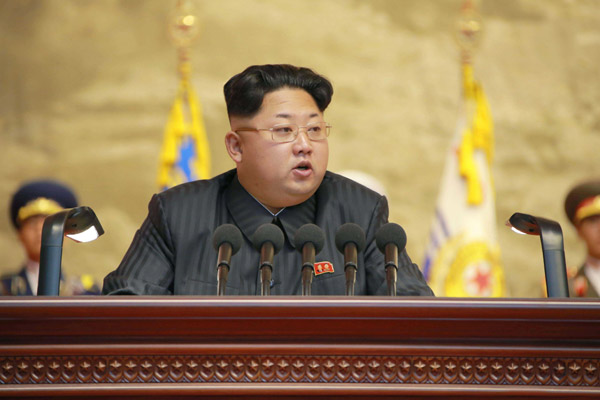 Photo provided by Korean Central News Agency (KCNA) on July 26, 2015 shows top leader of the Democratic People's Republic of Korea (DPRK) Kim Jong-un making a congratulatory speech at the 4th National Conference of War Veterans on July 25, 2015. [Photo/KCNA]
Together and independently, the Untied States, Japan and the Republic of Korea issued harshly-worded condemnations, and warnings, after the Democratic People's Republic of Korea test fired two mid-range ballistic missiles on Wednesday.
The "deeply upset" United Nations, which declared Pyongyang's act "seriously damages regional peace and stability" convened emergency closed-door consultations of the UN Security Council, where the US and its allies pushed hard for harsher sanctions against the DPRK.
It remains to be seen what degree of consensus can be reached, and whether or not the new, more stringent sanctions Washington, Tokyo and Seoul are calling for eventually get the UN's seal of approval. Unanimity is out of the question since the Security Council members disagree on the best approach to make DPRK leader Kim Jong-un behave.
The Chinese Ambassador to the UN, for one, has just reiterated Beijing's worry that the sanctions-only formula advocated by Washington, Tokyo and Seoul may only end up making things even more inflammable.
And as it has repeatedly asserted, Beijing will not sign up for any proposal that may result in chaos or war on the Korean Peninsula.
Not to mention that Beijing now has a substantive security threat on its doorstep with Seoul agreeing to deploy the US' Terminal High-Altitude Area Defense system, in disregard of China's security interests and strenuous opposition.
The THAAD anti-missile system insisted on by the US and the ROK is merely a nominal response to threats from the DPRK, but a real threat to China. How can they expect Beijing to pull their chestnuts out of the fire after suffering such a stab in the back at their hands?
Since the security landscape of Northeast Asia is in unprecedented disarray, Beijing certainly has to prioritize its own security. After all, Seoul is determined to proceed with the deployment of THAAD, Tokyo has just singled out China as a security threat in its defense white paper and installed a defense chief notorious for whitewashing the Japanese military's wartime crimes, and Washington is making trouble for Beijing in the South China Sea.
Security concerns once drove Beijing to join the Washington-led trio in implementing UN sanctions against Pyongyang. THAAD, however, has declared the death of that short-lived united front.
UN Secretary-General Ban Ki-moon, via a spokesperson, expressed hope that Pyongyang would "return to the process of sincere dialogue". But that is unlikely, with THAAD apparently dividing the international alliance against its stunts.
Pyongyang's nuclear and missile programs have thrived on such divides in the past. Chances are they will again.