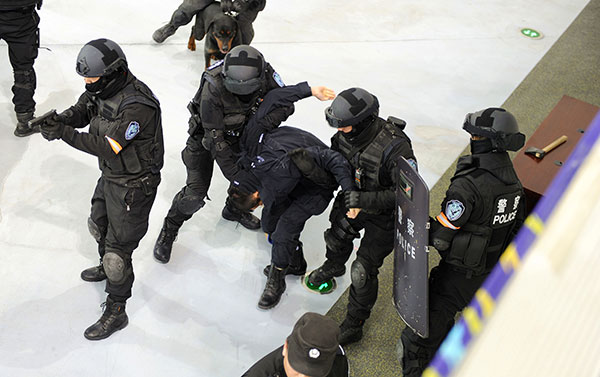 Police seize a simulated gangster during an emergency drill in Urumqi, Xinjiang Uygur autonomous region, earlier this month. The scenario involved a female audience member at a sports event who was kidnapped by two gangsters with knives. MA YUAN/CHINA DAILY
Terrorism is on the rise worldwide, and the situation in China is no exception.
When answering questions about terrorism in China on Friday, an anti-terrorism expert with the Ministry of Public Security summarized terrorism's penetration in the country as increasingly severe and the anti-terror situation as very grave.
As in other parts of the world, the challenge of fighting terrorism in China is daunting. The Xinjiang Uygur autonomous region where the Uygur ethnic group is concentrated often suffers from terrorist attacks that claim lives and damage property, and pose a serious threat to the country's security and social stability.
The East Turkistan Islamic Movement is a terrorist organization that is trying to penetrate into Xinjiang and instigate secessionism there. Given the close relationship between the ETIM and other terrorist groups, China's fight against terrorism in Xinjiang is definitely part of the global anti-terrorism war.
China remains firm in its stand against all forms of terrorism. So there is no reason for China's fight against domestic terrorism and extremism to be treated otherwise.
It is important the world has a shared definition of terrorism and never resort to a double standard in the war against terrorists and extremists, otherwise the cooperation the world badly needs for a concerted fight against terrorism will be badly compromised.
As far as China's efforts in this regard are concerned, it needs the collaboration of its neighbors and other countries.
It is impossible for any nation alone to deal with terrorism in today's globalized world, which has been evidenced by the development of joint anti-terrorism efforts worldwide in recent years.
Joint efforts to promote inclusive economic development and social progress to shrink the space in which terrorism flourishes and an intensified crackdown on terrorists are important, and in these the shared will of all countries is required.