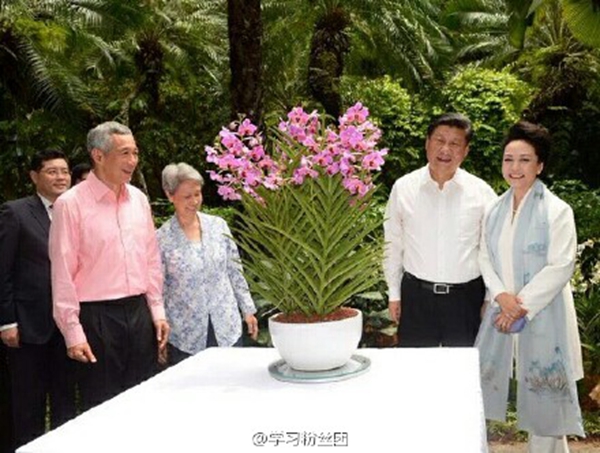 A new variety of orchid was named after Chinese President Xi Jinping and his wife at the naming ceremony held in Singapore Botanic Gardens on Saturday. [Photo/Sina Weibo]
Last year, Singapore and China commemorated 25 years of diplomatic relations, culminating in the exchange of state visits by Singapore President Tony Tan and Chinese President Xi Jinping. We established an All-Round Cooperative Partnership Progressing with the Times.
Singapore and China have had interactions for many centuries. Singapore has always been part of the Maritime Silk Road. The majority of our (Singapore's) citizens have ancestors from China. We enjoy a long-standing, wide-ranging relationship that transcends politics. The landmark visits by Singapore's first prime minister Lee Kuan Yew (1976) and China's former paramount leader Deng Xiaoping (1978) laid a strong foundation for the modern phase of our bilateral relations, prior to the establishment of formal diplomatic ties in 1990.
Lee Kuan Yew always believed that a strong China that was positively engaged with Southeast Asia would strongly benefit the region. That was why he suggested we jointly develop the Suzhou Industrial Park in 1994, our first government-to-government project, to promote the exchange of development experiences.
In 2007, when China's focus shifted to sustainable urbanization, we embarked on our second government-to-government project - the Sino-Singapore Tianjin Eco-City. We have also launched other "private sector-led, government-supported" projects to respond to different aspects of China's development interests, including the Guangzhou Knowledge City, Sichuan Hi-tech Innovation Park, Nanjing Eco Hi-tech Island and Jilin Food Zone.
Last year, Prime Minister Lee Hsien Loong and President Xi launched our third government-to-government, the Chongqing Connectivity Initiative, during President Xi's state visit to Singapore. The CCI supports China's key development strategies and will draw upon the comparative advantages of Singapore and China to prototype policy innovations and enhance connectivity in the areas of finance, aviation, transport and logistics, and info-communication technology.
Singapore-China relations have been a pathfinder for China's engagement of the region. We are the first Asian country to conclude a free trade agreement with China. Singapore was China's largest foreign investor from 2013 to 2015, and China is our largest trading partner. To support our growing economic ties, we aim to upgrade the FTA by the end of 2016.
Human resource development remains a key pillar of our cooperation. Since the mid-1990s, we have received more than 50,000 Chinese officials and cadres on training and visit programs. These exchanges facilitate mutual learning and the fostering of friendships. Bilateral cooperation has also broadened to include financial services, social governance and environmental protection, among others.