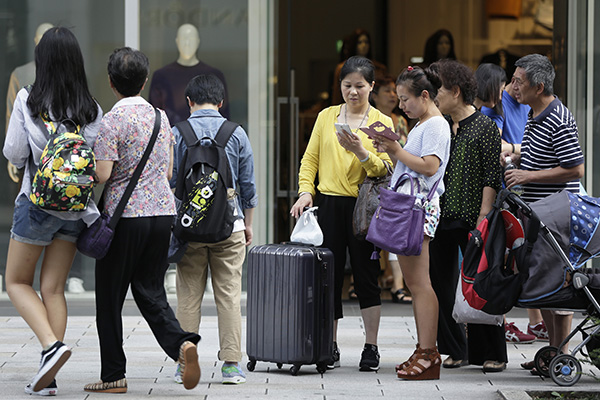 Chinese tourists visit Tokyo's Ginza district for shopping in August. Japan is the second-most popular overseas destination. [Photo provided to China Daily]
Japan is making increasing efforts to serve the growing number of Chinese tourists visiting Japan.
All FamilyMart stores in Japan began accepting Chinese UnionPay payment cards on Feb 2, which means all the three major chain convenience stores in Japan, namely Lawson, 7-Eleven and FamilyMart, accept UnionPay cards and allow for easy PIN-free payment.
Nearly 5 million Chinese tourists visited Japan in 2015, twice that of the year before. And Chinese tourists outstrip travelers from other countries in terms of expenditure, with each one spending $2,446 on average.
The Chinese mainland is one of the main global suppliers of tourists, and that has been paying dividends for retailers globally.
By 2019, Bank of America Merrill Lynch expects some 174 million Chinese tourists to be spending $264 billion in comparison with the 109 million who spent $164 billion in 2014.
Thanks to its cultural similarity and accessibility, Japan is one of the most popular destinations for Chinese tourists, and the ever-increasing number of Chinese tourists are bringing new business opportunities to Japanese merchants.
Japan's economy contracted at an annualized pace of 1.4 percent in the fourth quarter of last year, the fifth contraction in the 12 quarters Japanese Prime Minister Shinzo Abe has been in office. Weak private consumption was the biggest drag on Japan's economy, declining 3.3 percent at an annualized pace. December was the fourth consecutive month in which spending declined and it was the biggest fall since last May.
Out of options and desperate to boost its struggling economic recovery and ward off deflation, Japan has been forced to try its luck with negative interest rates.