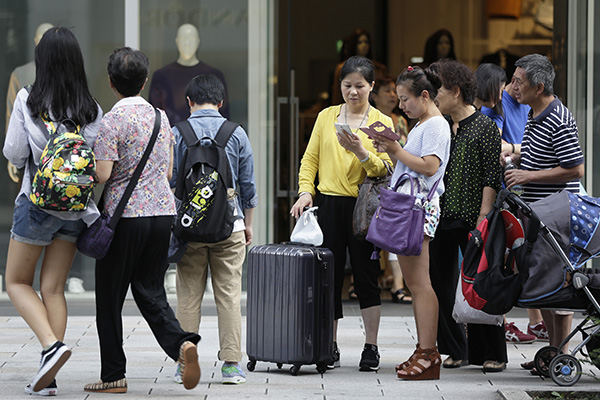 Chinese tourists visit Tokyo's Ginza district for shopping in August. Japan is the second-most popular overseas destination. [Photo provided to China Daily]
Among the cornucopia of goods, rice cookers, toilet seats, thermos mugs and ceramic knives are the "four treasures" Chinese tourists usually buy in Japan. And they buy in bulk.
Chinese travelers' craze for made-in-Japan goods has been so pronounced that the phenomenon has become one of Japan's buzzwords of the year. Bakugai is the new term Japanese use to describe Chinese shoppers' buying spree.
Some Japanese companies have designed special products with an eye on Chinese visitors to Japan. For example, Panasonic has designed a triangular robot vacuum cleaner, in golden color, with Chinese tourists in mind. It weighs only 3 kilograms and can reach into even corners.
Also, SoftBank Group Corp. has established a new inbound online travel agency, which has been listed on Chinese e-commerce giant Alibaba's travel marketplace, Alitrip. It plans to serve Chinese tourists looking for alternatives to well-trodden destinations in Japan.
The number of Chinese traveling to Japan has jumped dramatically in recent years, providing an important boost to the Japanese economy. Due partly to a big decline in the yen, which started in late 2012, 3.8 million Chinese had visited the island nation by the end of September this year, up from 2.4 million in all of last year. The number has stabilized around 300,000 a month.
A 2014 report by CLSA, a brokerage and investment group in Asia, forecasts that the number of outbound Chinese tourists will reach 200 million a year by 2020, and the amount they spend abroad will triple.
Japan's travel balance-the balance between amounts of money spent abroad by Japanese tourists and amounts of money spent in Japan by foreign travelers-moved into the black for the first time in 55 years since fiscal 1959. The special demand created by foreign tourists, mainly from China, is beginning to bring benefits not only to big cities but also to local regions.
Bakugai of Chinese and other high-spending tourists has been a blessing for Japanese retailers, which have been struggling in recent years. High-traffic destinations like Tokyo, Osaka and Fukuoka have seen their retail outlets-especially department stores, electronics shops and drug stores-rolling out the red carpet for the big-spending visitors, with consumption tax rebates and multilingual staff to encourage them to leave more of their money behind.
The Bank of Japan's Tankan business sentiment survey shows that Japan's big non-manufacturers' mood improved 2 points to plus 25 in the third quarter of this year, the highest since 1991, as retailers enjoyed falling energy costs and a surge in shoppers from China in department stores across Japan.
Japan has relaxed visa requirements. To lure more big spenders, it has also slashed the sales tax on a wider range of items favored by foreign tourists and is setting up duty-free counters in hundreds of shops in Tokyo and other places. Behind these initiatives are Japan's top quality goods and meticulous customer service.
Japan expects spending by tourists to exceed 4 trillion yen ($32.4 billion) by 2020 when Tokyo will host the Olympic Games, up from 1.6 trillion yen last year.
Japan is not alone in reaping the fruits of bakugai. Chinese shoppers buy luxury goods in many European shopping capitals, such as London and Paris. And China has pledged to boost its retail, health and travel sectors to lift consumption.
Chinese tourists' shopping list that includes even Japan's daily necessities such as cosmetics, electronics products and health supplements should offer Chinese policymakers and manufacturers some food for thought, for it highlights a missed opportunity for China's economy.
The author is China Daily chief correspondent in Tokyo. caihong@chinadaily.com.cn