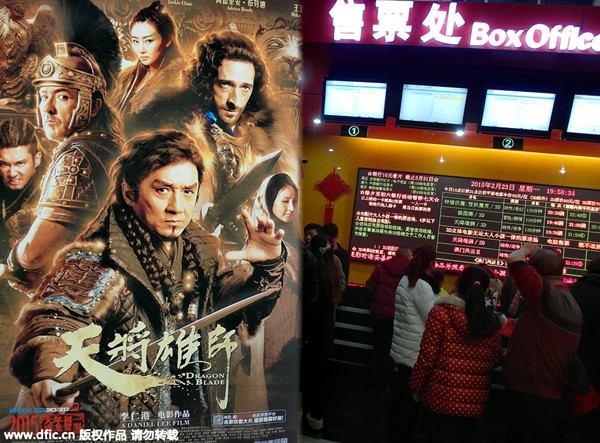 Chinese moviegoers buy tickets for the movie Dragon Blade at a box office of a cinema in Yichang city, Central China's Hubei province, Feb 23, 2015. [Photo/IC]
The standing committee of the National People's Congress began reviewing a draft of the first law concerning the development of the film industry on Friday. Details of the draft have aroused much discussion. Comments:
While many countries adopt film classification with clear, detailed standards, in China film censoring is done by a committee invested with almost unlimited power following quite ambiguous rules. They judge which scenes of a film are violent or obscene totally out of personal feelings and that's why their decisions to cut or reedit certain scenes are often widely criticized by domestic audiences. The new law should define clear standards for the committee to follow or the domestic film industry will continue to be a joke.
sznews.com, Oct 31
One of the highlights of the draft is it requires the government to provide more support to the film industry, like tax incentives and more specific investment. These measures are expected to accelerate the development of the film industry.
Ding Yaping, a senior researcher on the film and the TV industry at the Chinese National Academy of Arts, Oct 31
The draft says that films "should not distort history". The problem is that history has so many versions, who will decide which version to follow? Do they mean to recruit historians to join the film censor committee or do they mean officials will decide what is "correct" history? I hope that the law will prevent officials from judging films only by their own will but by relatively objective standards.
Xu Lin, a senior editor and member of the China Photo Journalists Society, via Sina micro blog, Jan 1
At present, film producers have to apply for approval for their scripts, which increases their costs and prevents the domestic film market from prospering. The draft law has made huge progress in this regard by considerably simplifying the approval procedure. I hope the legislators can make more progress to boost the film industry.
Zhou Xing, a professor of art and media at Beijing Normal University, Oct 31