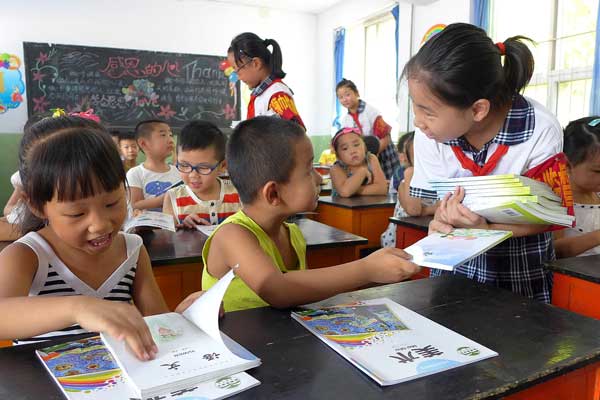 First-grade students receive new textbooks at a primary school in Handan, Hebei province, on Wednesday. Parents and educators are discussing ways of reducing the academic burden on young Chinese students. [Photo/China Daily]
A parent in dalian, Northeast China's Liaoning province, seriously injured himself when carving a Halloween pumpkin for his three-year-old daughter, who was assigned the task as homework by her kindergarten. Comments:
An increasing number of bizarre assignments for young students in China, to some extent, tell a very different story of the so-called innovative education, because such assignments may blur the boundaries of creative teaching, leading to the abuse of educational power. Teachers and educational authorities who turn a blind eye to parents' complaints may even be remiss in doing their duty. Proper regulations are needed to cover school assignments to be sure that are not way beyond students' capabilities.
China Youth Daily, Oct 28
Such "inspiring" homework has a lot to do with the exam-oriented mentality embedded in Chinese education, from kindergartens to high schools. On the one hand, parents have to intervene and finish their kids' homework, such as carving a Halloween pumpkin, because it cannot possibly be done by the kids on their own. On the other hand, the lack of scientific assessment criteria has made teachers focus on if, not how, students complete their assignments. Assignments such as this are pointless if they are only a competition for scores.
Ningbo Daily, Oct 28
In fact, some schools' willingness to discover new teaching methods is praiseworthy and necessary, especially against a backdrop of the ongoing nationwide educational reform. It is somewhat unfair for them to face the growing doubts of parents. The reform should proceed in accordance with the fundamental rules of education and teenagers' personal development, and seek benign cooperation with parents.
sina.com.cn, Oct 21