Education special: Global alumni celebrate Manchester Business School's 50th anniversary
One of the United Kingdom's first business schools, Manchester Business School, celebrates its 50th anniversary this year after being founded in 1965.
With 50 years experience delivering industry-focused programs to undergraduates and postgraduates, MBS runs a two and a half-year part-time global MBA program for more than 6,500 executives worldwide in its six international centers in Manchester, San Paulo, Shanghai, Hong Kong, Singapore and Dubai.
"Our 50th anniversary is an exciting time for us as we begin to work on our new building and continue to drive forward our ambitious research agenda. We hope more working professionals will join us at this significant time in our history," said Professor Elaine Ferneley, the business school's global and MBA director.
MBS uses the "Manchester Method" throughout the entire program, letting students work on real cases and problems, providing them the opportunity to relate academic theory to practical business management. "Original Thinking Applied" is at the heart of everything MBS does - turning theory into practice across all activities, through its programs, consultancy and research.
"Developed by MBS in the 1960s, the Manchester Method focuses on group work, practice-based learning and reflection. We don't just give students the theory; we show them how to use it to get immediate results," said Ferneley.
The MBA program was ranked fifth in the UK and 35th globally in the Financial Times Global MBA Rankings 2015. MBS is part of only 1 percent of business schools worldwide to receive three international accreditations: EQUIS, AMBA and AACSB.
"We encourage our students to travel and take workshops at different international centers," said Sherry Fu, MBS China Centre director who founded the China centre in Shanghai in 2008. "The program is 100 percent delivered in English and keeps consistent across global centers."
The MBA aims to transform ambitious executives into the international business leaders of tomorrow.
The China centre has helped about 1,000 students, among which 30 percent are international from more than 15 different countries and regions, since it opened and more than 220 of them have completed their studies.
"Our team is here to help others obtain wisdom to overcome business and life barriers, to continue to build on MBS heritage in China by adding value through a professional working manner," said Fu.
Last month, the first graduates reunion party in China was held to celebrate the students' success, MBS's 50th anniversary and the China Centre's 7th anniversary.
Matthew Knowles, East China director of the British Council, was at the event and said, "The MBS China Centre plays an important role in the UK-China Year (2015) of Culture Exchange and I'm pleased to see MBS brings the UK's world-class education to the Chinese market."
Sun Jiawei graduated from the MBA program last year and is now vice-president and marketing director at Huawei Technologies after progressing from a senior manager at a small enterprise.
"The program opened my eyes to new ways of doing business and I gained new insights into myself and global business. I also built up systematic knowledge of business management and a wide network. Studying the MBA at MBS is a really good investment," Sun said.
The success of MBS alumni is testament to the quality and international reputation of the program.
The mix of classes and projects offers students the chance to work with others and develop leadership skills.
The program offers a range of tailored courses that match the needs of students from diversified industries and functions, including general management, finance and investment and marketing.
Another graduate, Bill Cheng, who is CFO of Greater China Ernst & Young said," Having my post-graduate degree from MBS is one of the best investments that I have ever made."
zhuanti@chinadaily.com.cn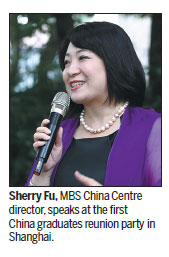 (China Daily 10/30/2015 page24)
Today's Top News
Editor's picks
Most Viewed