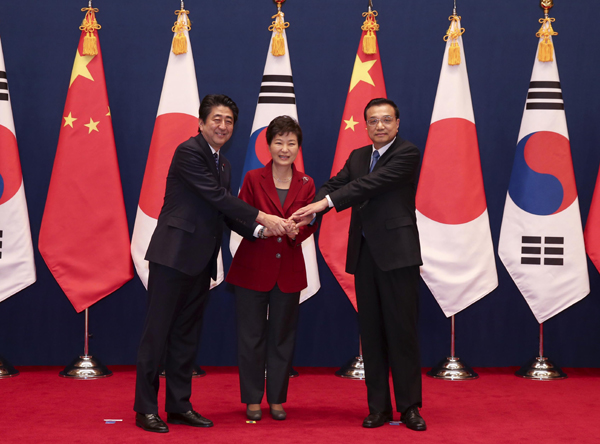 Chinese Premier Li Keqiang (right), Japanese Prime Minister Shinzo Abe (left) and South Korean President Park Geun-hye (center) shake hands during the sixth China-Japan-ROK trilateral meeting in Seoul, Nov 1, 2015. [Photo/Xinhua]
As anticipated, the first summit meeting between the leaders of China, Japan and the Republic of Korea after a three-year hiatus produced no surprises.
The joint communiqué, comprehensive as it is, presents little more than a shared willingness to work together and find a way out of the diplomatic ice age debilitating Northeast Asia.
Indeed, this short summit was more about atmosphere than about technicalities.
But, for the three countries, what can possibly be more imperative than a joint statement that they have had enough of estrangement.
The three-party summit evolved from a sideline meeting under the 10 + 3 (the Association of Southeast Asian Nations plus China, Japan, the ROK) mechanism because of a common political ideal inspired in part by the growing sense of community ASEAN has demonstrated. But the belated Northeast Asian response to the global trend of regional integration revealed its vulnerability more than three years ago when territorial disputes bogged down ROK-Japan and China-Japan ties.
With the political momentum gone, all three suffered. And with the idea of a China-Japan-ROK free trade pact falling effectively into the realm of the unlikely, they have missed a precious window of opportunity for substantially boosting their economies through three-party cooperation.
The past more than three years can surely be cited as evidence that China and the ROK can do quite well without accommodating an uncooperative Japan. But a divided Northeast Asia is all-lose.
It may be too early to talk about a united, harmonious Northeast Asia. The just released communiqué displays little assurance that history, and territory issues will stop haunting the neighborhood, and they could easily freeze the thawing ties unless all stakeholders are equally rational in managing those sensitive triggers.
However, the summit is a consoling message. And it may serve as the badly needed catalyst for confidence building.
Judging from the recent vicissitudes in the region's complicated state-to-state relations, this fine starting point in no way equals half a success; it will not until all parties match rhetoric with deeds.
But it is a hopeful step forward that inspires hopes for sensible follow-up moves.
From a free trade area to environmental concerns, talent exchanges, and Peninsula denuclearization, they have a lot to do together.
Yet everything on the communiqué's to-do list entails a favorable political atmosphere, which has been illusive in this triangle.