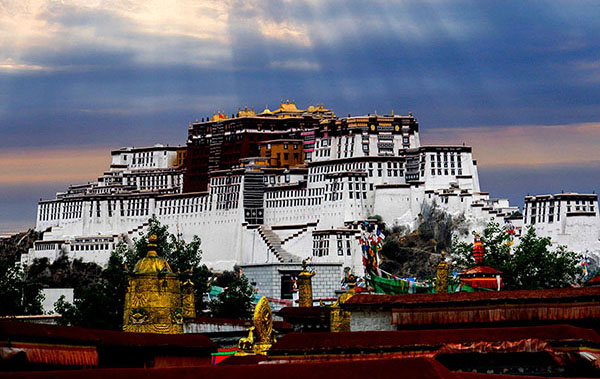 Potala Palace bathed in the morning light in Lhasa, June 1, 2013. [Photo by Li Zhongmin/All rights reserved by chinadaily.com.cn]
The now-50-year-old Tibet autonomous region has every reason to rejoice: The national regional autonomy mechanism is working well and benefiting ordinary Tibetans.
Yet the 14th Dalai Lama and those in Dharamsala of India will not be sharing the festive mood, for this is not what the Dalai Lama wants. The "high degree of autonomy" he advocates is de facto independence. He wants the central government to forsake any military presence in the region and for the region to conduct its own diplomacy. This would mean the region becoming an independent sovereignty entity.
But for that to happen, he would first have to overturn the established jurisprudential truth that Tibet is a part of China. Which is impossible.
The Dalai Lama knows that the autonomous region was an outcome of negotiations between the central government and the local authorities of Tibet, and was written into the famous 17-Article Agreement for Tibet's peaceful liberation. Until the armed rebellion in 1959, the Dalai Lama himself chaired the preparatory committee for the Tibet autonomous region.
And the design drawn up then has served Tibet well, no matter how unwilling he is to acknowledge it.
There is but little exaggeration in local administrators' familiar claims that Tibet is enjoying its golden days, because it keeps changing for the better with each passing day.
Few of these changes would have been possible without the very special autonomy bestowed on Tibet.
Such autonomy facilitates local administration, because, in addition to making laws and regulations on its own like all other local governments, the regional government is authorized to tailor national laws to local conditions in their implementation.
Even among the country's autonomous regions, Tibet has been the subject of envy for the policy favors it has received. Financial subsidies from the central government accounted for almost 93 percent of financial expenditures of Tibet from 1952 to 2014, not to mention the endless aid programs provided by dozens of central government offices, provinces and major State companies. And the sixth central conference on Tibet has just promised further efforts to improve local living standards.
More importantly, the traditional culture of Tibet, from Tibetan Buddhism to the Tibetan language and way of life, which the Dalai Lama says is a target of "cultural genocide", remains alive and well.
Compared with the Dalai Lama's pipe dream "autonomy", what the Tibetan people enjoy now is genuine and practical freedom to build better lives.