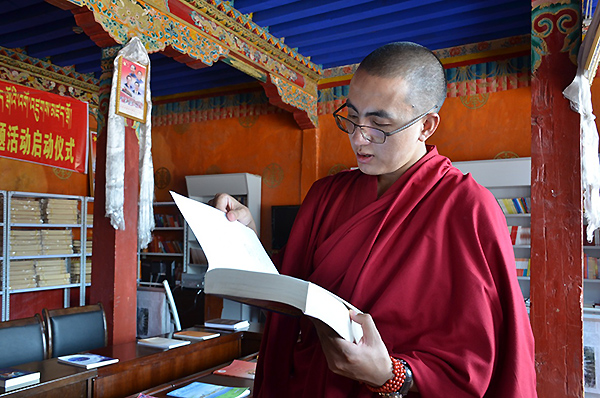 Tenzin Yontan, a Tibetan Buddhist monk, reads a book at the Champa Ling Monastery in Qamdo, a city in the east of the Tibet autonomous region, Aug 7, 2015. [Photo by Chen Bei/chinadaily.com.cn]
Drolma Yangkyi's first errand every morning is to change the offering water and tea and burn incense in front of the religious offering table.
During the most auspicious days according to the Tibetan calendar, the eighth, 15th and 30th days of the month, Drolma's family lights 108 butter lamps at home.
"We also light 20, 30 and 50 butter lamps on other less important auspicious days,"the 37-year-old said, adding that her family visit all monasteries and temples in Lhasa several times each year.
"I have work to do. I only circle the Jokhang Temple once each day and the Potala Palace once every week because of time limitations," said the Lhasa resident, adding that older members of her family circle more often.
The family also invites monks to perform ritual activities at their home if bad things happen or they wish to change their luck.
Pilgrim'religious life
Like Drolma, many families in the Tibet autonomous region believe in Tibetan Buddhism. Their religious needs have been fulfilled in accordance with the law.
"Tibet is a place with a large number of monasteries, monks and nuns, as well as a living Buddha and pilgrims,"said Lhakpa Tsering, vice director of ethnic affairs and religion commission at the Tibet autonomous region.
Entering the Tibet autonomous region, Buddha images and Tibetan scriptures, such as Om mani padme hum, the mantra of the bodhisattva of compassion, can be seen and heard everywhere, carved on stone, murmured by pilgrims and written on prayer flags and wheels.
"Religion has been respected and protected in Tibet in accordance with the law," said Lhakpa, adding that legal religious activities held on a regular basis have been protected.
He also said that in recent years, the State and local government has increased investment to preserve cultural relics, including renovating monasteries and temples.
Drolma's family buys religious products on a regular basis, including prayer flags and butter lamps.
"I can buy all kinds of religious products in Lhasa, such as at Barkhor Street," Drolma said.
Wandering in Barkhor Street, a traditional business hub for Tibetans where the Jokhang Temple is located, customers can see all kinds of religious products.
Diverse religious books in Tibetan and Mandarin, as well as religious music are also piled high in Lhasa's bookstore.
Not only are pilgrims' religious needs fulfilled, the lives of monks and nuns, as well as the condition of temples and monasteries have been greatly improved.
The Tibet autonomous region has 1,787 religious sites and more than 46,000 monks and nuns. The autonomous region has about 3.1 million people, and 92 percent are non-Han.