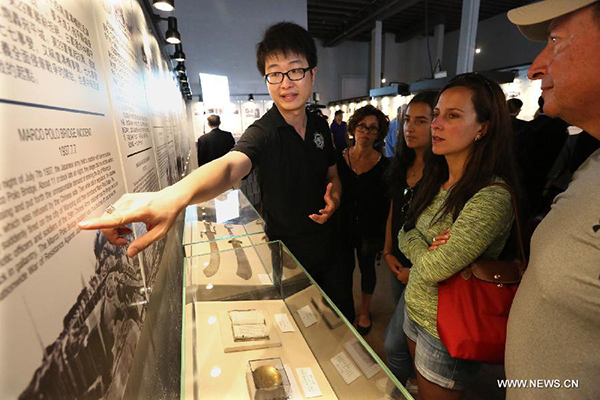 A volunteer (1st L) explains the exhibits to visitors at the WWII Pacific War Memorial Hall in San Francisco's Chinatown, the United States, Aug 15, 2015. The WWII Pacific War Memorial Hall, the first overseas anti-Japanese war memorial, opened in San Francisco on Saturday. [Photo/Agencies]
It is customary for people and nations to commemorate anniversaries. In the context of World War II, last year France observed the 70th anniversary of the Normandy landings. In May this year, Poland and Russia separately commemorated the 70th anniversary of the end of WWII and the defeat of Nazi Germany. And in a few days, China will hold several events to mark the victory of the War of Resistance Against Japanese Aggression (1937-45), including a military parade in Beijing on Sept 3.
The purpose of such a commemoration is to learn from history and look to the future. France commemorated the 70th anniversary of the Normandy landings both to appreciate the role of the Allied Forces, especially the US military, in freeing it of Nazi rule and to extol Russia for its role in defeating the fascist forces during WWII. To its credit, France invited Russia - despite Russia's intervention in Crimea early last year - to show its respect for history and to help reconcile relations between Moscow and the West.
Similarly, China will commemorate the 70th anniversary of the defeat of Japanese imperialism and the triumph of the just in WWII, with 49 countries and 10 international organizations invited as guests, including Russia and the US. China also invited Japan among other countries to attend the commemorative events in the hope of reconciling relations by reviewing history together.
In particular, China is commemorating the anniversary because of the rise of rightwing revisionists in Japan, who visit Yasukuni Shrine, which also honors 14 Class-A war criminals, and deny the Imperial Japanese Army forced women and girls into sexual slavery (called "comfort women") during WWII.
Japan did not accept China's invitation, and some Western countries will send their envoys, instead of their state leaders, to attend the parade. These countries' contention is that democratic nations do not commemorate such solemn anniversaries with a military parade - only authoritarian regimes do so in order to flex their muscles. It seems these countries want to keep their distance from China, a non-Western society.
It is not true, however, that "democracies" don't flex their muscles and Western countries don't commemorate anniversaries with military parades. India is often called the "biggest democracy" and it stages a military parade on its Republic Day every year, and US President Barack Obama graced it this January.
Also, the 70th anniversary of the end of WWII saw a number of "Old European" and "New European" countries organize activities to recall the horrors of war and the suffering of their people. France and Poland did so, though they didn't organize military parades on a large scale. And soon after WWII ended, the US staged military parades; it did so again in 1991 after the success of Operation Desert Storm in Iraq.
Therefore, Western and non-Western countries both reflect on their past through commemorative activities and stage military parades to show their resolve to defend their territories and peoples - the US has done that, USSR/Russia and France did it, India does so and now China will, on Sept 3.
China was invaded and part of the country was occupied by Japan in the 1930s and 1940s. The invading Japanese forces unleashed a reign of terror in the country, killing millions of Chinese. In response, Chinese people made heroic sacrifices to protect their land and lives, laying the foundation of New China and helping it become a powerful nation.
Remembering the past has nothing to do with sustaining hatred. Instead, if former WWII enemies come together to remember the tragic past, they are likely to make sincere efforts to prevent the recurrence of such disasters and to protect international security. The Beijing parade has been perceived with such a thought in mind.
The former fascist powers, which had forged an Axis during WWII, have achieved huge economic success. And although Germany has owned up to and apologized for its past, different Japanese politicians have viewed their past differently. Indeed, a number of Japanese leaders and former leaders have expressed genuine remorse for the atrocities committed by the Japanese army before and during WWII and vowed to protect their pacifist Constitution. But rightwing revisionists deny Japan's war crimes and continue to pay homage to war criminals.
Wary of such disturbing developments, China believes it is its responsibility to defend the postwar world order by highlighting the war of resistance against Japanese forces and the war against fascism through a military parade. Rather than flexing its military muscles, China aspires to offer a somber reminder of its will and capacity to maintain world peace, as it has done before, by deterring aggression in the future.
The author is a professor at and vice-dean of the Institute of International Studies, Fudan University, and the founder-director of China's first non-government-based Program on Arms Control and Regional Security at Fudan University.
Courtesy: chinausfocus.com