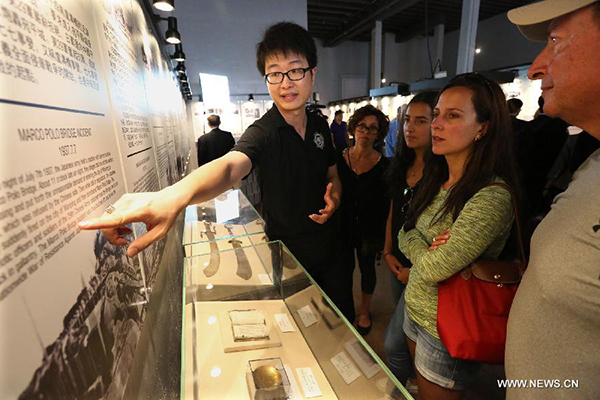 A volunteer (1st L) explains the exhibits to visitors at the WWII Pacific War Memorial Hall in San Francisco's Chinatown, the United States, Aug 15, 2015. The WWII Pacific War Memorial Hall, the first overseas anti-Japanese war memorial, opened in San Francisco on Saturday. [Photo/Xinhua]
The sights and sounds of celebratory drums, lion dancers and the Boy Scouts of Troop 485 presenting the United States colors drew media outlets from around the world to the heart of San Francisco's Chinatown on Aug 15 to record the work of community volunteers, US war veterans and other dignitaries at the opening of the nation's first World War II Pacific War Memorial Hall.
The end of WWII on the very same day 70 years ago marked the world's victory against fascism. It also marked the victory of Chinese People's War of Resistance Against Japanese Aggression (1937-45).
WWII was fought mostly on two continental fronts: the European theater, where the US focused all its early efforts to defeat Nazi Germany, and the Asia-Pacific theater where China led the resistance against fascist Japan before American and British forces joined in. More than 20 million Chinese and at least 2 million Japanese perished in the Asia-Pacific war. Millions more Chinese were displaced, leading to the largest human migration in not just China but also the world.
My memory of that tragic time goes back to when I was about 4 years old. My three older brothers were high-school and university students. They quit school to join the Chinese resistance army. My mother, with her bound feet, could not stop her sons from taking that fateful step and her river of tears could not weaken their resolve. The next day, my father and brothers disappeared. Our happy family life was shattered.
True friendships are often forged in difficult times, and that is what happened between the American and Chinese peoples during WWII. In fact, many American fighter pilots volunteered to stay in the Asia-Pacific theatre to form the 1st American Volunteer Group of the Chinese Air Force, better known as the Flying Tigers.
The Flying Tigers flew some of the most dangerous missions over the Himalayas, without the help of even radars, to bring supplies to China, often under intense air fire from Japanese planes.
The WWII Pacific War Hall gives some information on the fighters, and with the help of the Flying Tigers Historical Association, we have restored an original WWII C-47 airplane that will take off on a memorial flight later this year to recreate the famous "Hump Flight" over the Himalayas. The plane will then be donated to the Flying Tigers Heritage Park in Guilin, South China's Guangxi Zhuang autonomous region, as a symbol of the goodwill between the US and China.