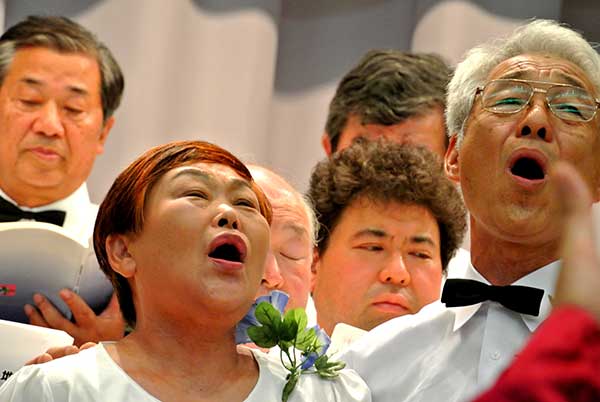 Japanese chorus group Rebirth of the Ground will stage a concert in Beijing on Tuesday.[Photo provided to China Daily]
Rebirth of the Ground, an amateur Japanese chorus group, will debut in Beijing on Tuesday, as part of celebrations of China's victory in the War of Resistance against Japanese Aggression (1937-45).
The group will perform the suite, Rebirth of the Ground, which the chorus is named after.
The suite, written by Japanese lyricist Takako Okado and composer Yuki Ando, describes the suffering and horrors of war, as well as seeks to send the message of peace.
Founded in 2011, the chorus that includes around 70 Japanese members between ages 50 and 84, performed the suite at the former War Criminals' Management Center in the Chinese city of Fushun in September 2013, when the anniversary of the Mukden Incident was being marked.
On Sept 18, 1931, Japanese forces started to occupy Northeast China and remained in the country until their surrender in August 1945.
In an interview with China Daily, Okado says that she was inspired to write the suite when she met several members of the Association of Returnees from China in 2000. Being interested in their various experiences, she also read up documents and books about the history of that body.
In 1950, China and the former Soviet Union agreed to have about 900 Japanese war criminals sent to the Fushun War Criminals' Management Center in the northeastern Liaoning province.
The Japanese spent six years in Fushun and were treated well by the Chinese. On Sept 24, 1957, the Association of Returnees from China was founded by some repatriated Japanese war criminals, who launched a campaign for Sino-Japanese friendship and peace.
Okado says she spent about 12 years finishing the suite and that she talked with many
Japanese war criminals who had lived at the Fushun facility.
"We want to express remorse for Japan's wartime actions and we wanted to sing for people, who forgive their enemies," Okado says. "What we hope for is peace always."
If you go
7 pm, Tuesday. The concert hall of the State Administration of Press, Publication, Radio, Film and Television of China, 2 Fuxingmenwai Street, Xicheng district, Beijing. 010-6889-1760.