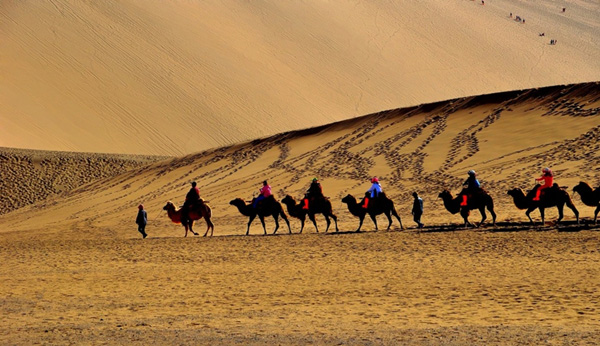 Tourists ride camels on the Mingsha Sand Dunes during a visit to Crescent Moon Spring on the outskirts of Dunhuang county. [Photo by Fan Chen]
The setting was as breathtaking as the topic was important. On July 23rd, I was privileged to attend the Silk Road Cities Cooperation Forum in Venice at San Marco's Ca' Giustinian, one of the most impressive palaces on the Grand Canal. Part of China's One Belt and One Road (OBOR) initiative, it is so important because In my opinion it marks a turning point in New China's history as it is the banner under which China mounts a more muscular public diplomacy initiative.
As Qala, Malta mayor, Clint Camilleri, noted: "the Forum was very interesting for us and we want to be a stakeholder in this initiative. China is doing a great job of out-reaching the benefits to China and to the other countries involved."
The Forum, under the leadership of China's Silk Road Cities Alliance and Italy's leading cultural organization, Priorità Cultura, featured heavy hitters such as Italy's Foreign Minister Paolo Gentiloni and China's affable former Foreign Minister Li Zhaoxing, as well as government and business leaders from Italy, home and abroad.
Mayor Tunc Soyer of the Seferhisar Municipality of Izmir, Turkey looked at China's OBOR initiative in big picture terms. Soyer noted that "our world is becoming a global village and in this village we need to be in contact with each other. Since we are all limited by our experiences, if I can meet with a colleague from China or elsewhere, he has a different perspective and so his experiences will make me richer as they give me new ideas and perspectives. The Forum gave me new contacts and a variety of perspectives from different parts of the world."
The Forum and the Silk Road Cities Alliance hope to be a clearinghouse and think tank for cities to share information using the best available technologies from home and abroad. Agreement was reached in Venice to alternate forums between Chinese and Italian cities. According to Hao Yaohua, president of the Silk Road Cities Alliance, there is already keen competition in China to host next year's Forum. He noted that in the future, cities in other countries along the Silk Road might participate as hosts.
I am in accord with the Italian foreign minister, who told the Forum that cities can play an important role in this OBOR initiative because sometimes cities can initially do a better, more efficient job in fields such as culture, education, economics and nongovernmental cooperation than a nation or central government can initially.
So why the Italian connection? I asked Francesco Rutelli, former mayor of Rome and former Italian minister of culture, now head of Priorità Cultura. His answer was poetic.
"I feel that contemporary culture industries like design, fashion, food, architecture and so on are the main fields where Chinese people consider Italy a superpower. We have such a rich cultural capacity, both historic and contemporary, that our country of 60 million has all the interest in developing such a cooperation with the growing China and this can represent a huge opportunity in terms of international dialogue. It's cultural diplomacy and peace building, so it's one field where Italy can be at the same level as China and bridge differences and help people understand each other."
Art and culture bridge public diplomacy among diverse countries, and at the end of the day, it is people-to-people diplomacy that can make the difference between friendship or waging war.
While "One Belt and One Road" seems to be the meme du jour that in too many cases produces hot air for participants and potential profits for organizers, I personally was inspired by the Forum and hope that its goals can be fast-tracked into action. China's revival of the historic Belt and Road at its best represents a richer and more peaceful world.
The author is a senior adviser to Tsinghua University and former director and vice-president of ABC Television in New York.