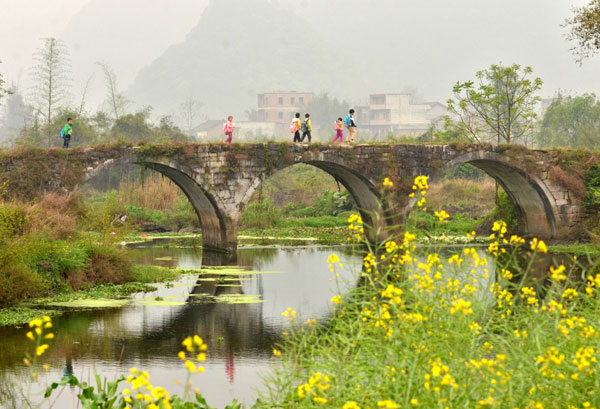 Children walk home together after school in Pingluo village, Guangxi Zhuang autonomous region, March 19, 2013. They are called "left-behind children", because their parents have moved to urban areas in search of long-term jobs as migrant workers. They are left behind in the countryside and cared for by relatives – usually grandparents. They are separated from their parents for many years. There are in all 1.4 million left-behind children in Guangxi; in China, the total is 58 million. [Photo by Meng Zengshi/Asianewsphoto]
This is admission season for Chinese schools. But in big cities such as Beijing and Shanghai, migrant workers without hukou (household registration) face huge problems in getting their children admitted to schools.
Over the past few years, the government has taken measures to ensure migrant workers' children enjoy equal education rights. But since in cities like Beijing and Shanghai education resources are becoming increasingly tight because of rising migrant populations, some local governments have introduced some regulations for non-local school-age children, such as place of residence, hukou and and social security, for enrollment in schools.
Premier Li Keqiang said in this year's Government Work Report that the government will implement the policy of enabling migrant workers' children to receive compulsory education in the place they reside.
And although there is general consensus that such children should enjoy equal education rights, it is difficult to eliminate the threshold of enrollment and get every child into school.
According to Ministry of Education data, about 80 percent of migrant workers' children who are eligible to get education in cities study in public schools without paying any extra fees. But to ensure equal education rights, all migrant workers' children, not just those who are "eligible", should be admitted to schools.
Many of the ineligible children have to go back to their rural homes to get compulsory education. In the process, they become "left behind children" and face immense difficulties in the next stage of education.
In 2008, the State Council, China's Cabinet, required local authorities to deal with this issue based on the principle that migrant workers' children should receive compulsory education "mainly in the place they reside and mainly in public schools". But since migrant workers' population has sharply increased over the past years, urban education resources are falling short. As a result, an increasing number of migrant workers' children cannot get compulsory education in urban areas. In fact, even some city-born school-age children (without hukou in local areas) cannot get admitted to schools if they have a hukou in another city.