More help awaits left-behind children
Updated: 2014-06-01 07:24
By Yang Yao (China Daily)
| | | | | | | | | |
| --- | --- | --- | --- | --- | --- | --- | --- | --- |
|   | | Print | | Mail | | Large Medium  Small | 分享按钮 | 0 |

China trains social workers to meet demands of welfare expansion in nearly 50 cities
"My mom left us when I was 1 year old," said 8-year-old Panpan, who lives in Xiwen county in Shanxi province. Her mother left her and their village to work in a city. Her father did so too, soon after her mother's departure.
Panpan has been raised by her grandfather since. He supports the family through farming and makes some 200 yuan ($32) a month.
In China, one child out of every four children lives apart from biological parents owing to internal migrations that are often driven by economic reasons, according to the All China Women Federation, a government agency.
A recent study by the federation showed that China has around 61.02 million left-behind children, who make up for 21.22 percent of its overall child population of 287 million.
In a bid to help such children and their care-givers, who are usually grandparents, the government has stepped up funding and training of grassroots activists known as "barefoot" social workers, by expanding an existing child welfare program.
Years ago, Chinese people used "barefoot doctor" as a description for medical practitioners in villages, who provided basic services.
The "barefoot" social workers are a result of an initiative by the United Nations International Children Emergency Fund in 2010 to extend social services to vulnerable children in China.
The Ministry of Civil Affairs and the UN agency began a pilot project in 120 villages across Henan, Sichuan, Shanxi and Yunnan provinces and Xinjiang Uygur autonomous region that year to help children effected by HIV/AIDS. The program then expanded to left-behind children and orphans in those areas.
Today, with more children being registered by their families for government assistance, the program is set to travel to Kunshan in Jiangsu province, Haining in Zhejiang province, Luoning in Shenzhen, Guangdong province and another 46 cities.
Mei Hongfang is one such social worker, who visits Panpan every week to play with her. "I've also helped Panpan apply for the minimum insurance for children with more than 100 yuan per month," Mei said. "The villagers do not know about rules on children's welfare."
These child welfare officials are picked by local civil affairs bureaus from communities within which they live, and they help families identify the needs of children and offer counsel on available assistance. They fetch birth certificates and residence identification papers that help grandparents enroll children in schools and get them vaccinated at healthcare facilities.
Additionally, "barefoot" workers identify vulnerabilities in children and the protection they may need.
Mei visits more than 10 children in the county every week. Xiao Yun is another child who gets Mei's special attention. After being orphaned two years ago, his personality had changed. "He didn't want to talk and always kept to himself," Mei said.
She befriended Xiao Yun and helped him apply for orphan grants of 7,200 yuan per year. "He talks more and gets along well with other kids," she said.
There are several government policies to promote basic rights of children in China, said Wang Zhenyao, dean of Beijing Normal University's China Philanthropy Research Institute. However, children in poverty-stricken areas or those living away from their parents often lack the knowledge to access social services.
"By identifying someone in the community where these children live, we equip them with the right social work skills and are able to make sure we reach every child with a mix of care and practical support to connect them to services and entitlements," Wang said, adding that the ongoing project will help in the emergence of more government-backed professional child welfare services.
"We recognize the importance of working with the community to strengthen the role played by the government in providing adequate care, protection and support for our children," said Xu Jianzhong, deputy director-general, Department of Social Welfare and Charity Promotion, an affiliate of the Ministry of Civil Affairs.
"We are working with the provinces to see how best we can commit the needed resources to roll this out so as to reach more and more children."
As part of its commitment to the UN Convention on the Rights of Child, China is keen to expand this model, endorsing it as part of its Outline for the Development of Chinese Children (2011-2020) and building an inclusive child welfare system.
yangyao@chinadaily.com.cn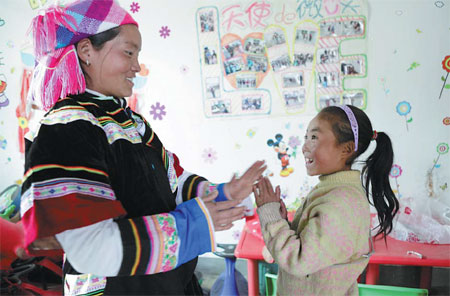 Yang Rezuo (left), a child welfare official from Liangshan Yi autonomous prefecture in Sichuan province, plays with an 11-year-old girl. Provided to China Daily
(China Daily 06/01/2014 page7)