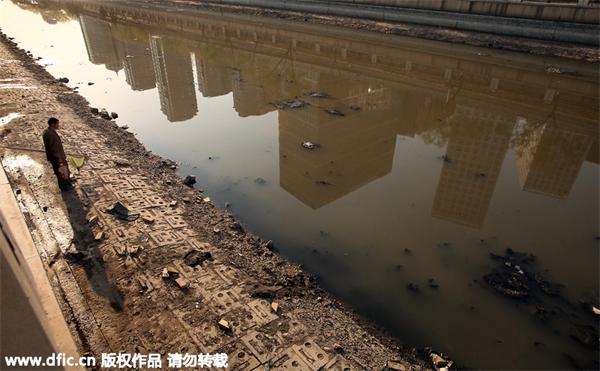 A Chinese man hunts for minnows in a heavily polluted canal in Beijing`s central business district on April 30, 2010.
A new national regulation on curbing and preventing water pollution has obtained approval from the State Council, China's Cabinet, and could come into effect next month. Comments:
The current laws are rather weak when it comes to penalizing enterprises that illegally discharge industrial waste into water bodies. The fines are so low that enterprises simply pay them and obtain large amounts of profit by continuing their illegal behavior. Worse, some local governments prevent environmental agencies from fining the enterprises because they also produce higher GDP. That's why water pollution is so serious.
Ma Jun, director of Institution of Public & Environmental Affairs, March 23
Transparency is the best remedy to prevent corruption, because when people know which province has the worst pollution and the officials in which city indulge polluters, they will cast pressure upon the authorities and force them to act firmly. However, currently there are too many problems that hinder transparency. We need to do more to resolve this issue.
Wang Chanfa, a professor of resources law at China University of Political Science and Law, March 23
Compared with air pollution, which has already aroused public attention in recent years, water and soil pollution are actually more detrimental to people's health in the long run; and more difficult to curb. With the new regulation coming into effect, a responsibility mechanism will be introduced, in which those held accountable for water and soil pollution get their deserved punishments.
Economic Information Daily, March 23