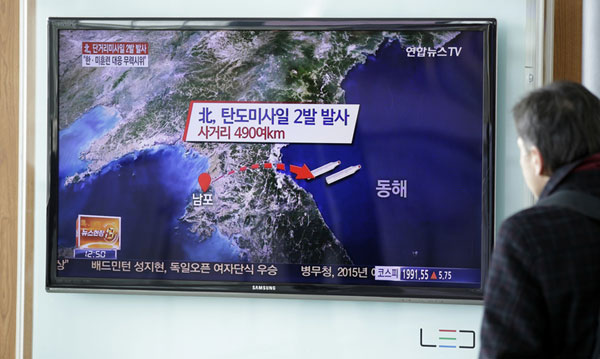 A man watches a TV news program reporting that the Democratic People's Republic of Korea fired two short-range ballistic missiles, at Seoul Railway Station in Seoul, South Korea, March 2, 2015.[Photo/IC]
The Korean Peninsula is witnessing what has become an annual tit-for-tat drama. Ignoring the vehement protests of the Democratic People's Republic of Korea, the United States and the Republic of Korea started their joint military drills, codenamed "Key Resolve" and "Foal Eagle", on March 2. While Washington and Seoul insist the exercises are defensive and non-provocative in nature, Pyongyang says they are "dangerous nuclear war drills ... (aimed at) invading the DPRK".
In response to the US-ROK drills, the DPRK fired two short-range ballistic missiles into its eastern waters on the same day. Pyongyang has for long regarded the Washington-Seoul joint drills as a serious threat to its security. For the past few years, Pyongyang's opposition to the Washington-ROK drills has been growing louder as their dates draw nearer. It has also been conducting weapons' tests in response to the joint drills.
In fact, this year, Pyongyang has even greater reason to feel angry because it had, in a rare gesture, expressed its willingness to resume talks with Seoul and proposed direct talks with Washington.
In January, the DPRK's representative to the Six-Party Talks Ri Yong-ho and former US special representative for DPRK Policy Stephen Bosworth held a meeting in Singapore, which was widely seen as one of the most important moves taken by Kim Jong-un since he assumed the country's leadership three years ago.
The DPRK even hinted that it would halt conducting nuclear tests if the US canceled the joint drills with the ROK, only to be snubbed by Washington. Since the three nuclear tests the DPRK has conducted have raised tensions on the Korean Peninsula, its offer to halt them reflects its willingness to ease tensions in Northeast Asia. Yet because of the distrust between Pyongyang and Washington, there is no sign of reconciliation.