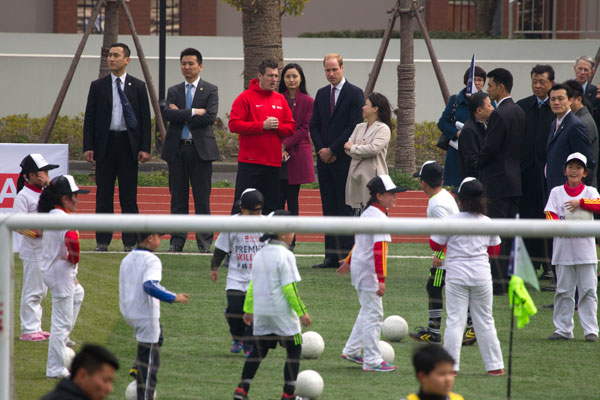 Britain's Prince William watches students undertaking training during a visit to a Premier League training camp at Nanyang Secondary School in Shanghai March 3, 2015. [Photo by Gao Erqiang for chinadaily.com.cn]
China should learn from the United Kingdom's experience in developing soccer, Chinese President Xi Jinping told visiting Prince William on Monday. The British prince said he would welcome more Chinese players joining the Premier League.
Xi has openly expressed his interest in soccer, as well as his desire to see a stronger national soccer team, several times in recent years. The Chinese national team's ranking in the world, according to the International Federation of Association Football, has fallen from around 50th in 1990s to about 100th now. Even with a "golden generation" of players, China lost all three group matches without scoring a goal in its only appearance in the World Cup finals, the tournament jointly hosted by Japan and South Korea in 2002.
Last week, the top central leading body for reform, chaired by Xi himself, passed a guideline calling for soccer to be promoted in schools and market reform of the professional league. With China's top leader a soccer fan, it is to be hoped the reform plan can usher Chinese soccer into a new phase of development.
The malady of Chinese soccer is self-evident. Two year ago, several senior officials and football referees in the Chinese Football Association, a de facto football administrative center affiliated to the General Administration of Sports, were found guilty of corruption and power abuses. And dozens of players were charged for manipulating matches and gambling.
The rigid sports administrative system has led China's professional league astray, and the Chinese Super League is a hot-money game focused on quick success and instant rewards.
There are two major kinds of investors in China's football clubs, the resources and energy State-owned enterprises and real estate tycoons. The Chinese clubs simply repeat the development model of the clubs sponsored by the oil money in the Middle East, importing aging stars and big coaches from Europe and South America.