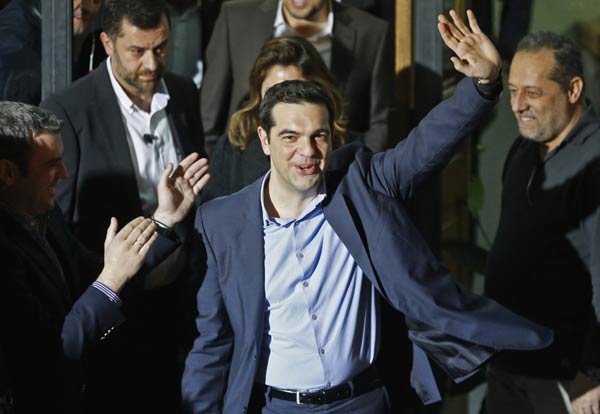 Head of radical leftist Syriza party Alexis Tsipras waves while leaving the party headquarters after winning the elections in Athens, January 25, 2015. [Photo/Agencies]
The actions of Alexis Tsipras, who heads the new Greek government, have been swifter than most expected, as he bids to deliver on the promises he made to voters in the run-up to the election on Jan 25.
His actions have focused on saying no to the previous government's agenda. For example, Tsipras and his team have said Athens will no longer cooperate with the troika of the European Commission, European Central Bank and International Monetary Fund on repayment of the Greek debt, which is now about 175 percent higher than its economic output. They have also decided to end the austerity measures, and are trying to raise the minimum wage from around 600 euros ($678) a month to the pre-2008 crisis level of 750 euros.
They have also sacked the heads of the state privatization agency and are halting the country's massive privatization plan, which had partly helped win a 240 billion euro bailout from the European Union, ECB and IMF.
This U-turn on privatization has led to media coverage in China suggesting that it will mean a loss for the Chinese shipping giant COSCO, which runs two container terminals at the port of Piraeu.
But the fact is far the Greek government has pledged to protect COSCO's 35-year concession to run the two terminals.
In support of their actions, Tsipras and his team have also started a charm offensive with their European partners in an attempt to sweeten their actions and obtain new terms on the country's debt repayment. This engagement will continue this week, as Tsipras and his team are to hold talks with Paris, Rome and London. Tsipras will also attend his first summit with the other EU leaders in Brussels on Feb 12.
Although the market has reacted nervously to Tsipras winning the election, he has vowed to pay off the debts and said he will not act unilaterally. It is to be hoped that his rational approach will prevent a vicious chain reaction from occurring, in which the market, decision-makers, opinion leaders, the media and the rating agencies spread anger, distrust and disorder, as happened during the most difficult years of the Greek debt crisis from 2010 to 2012.