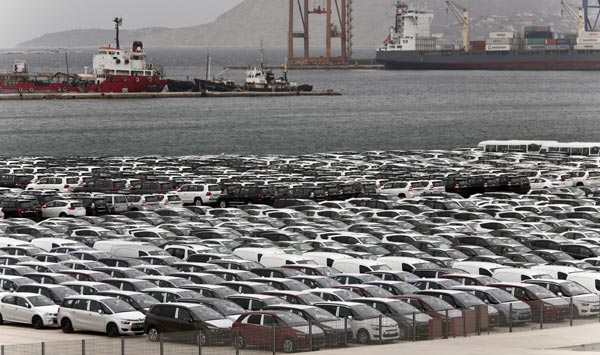 Vehicles parked at a cargo terminal at Piraeus port near Athens, Greece. Container traffic soared to about 3 million TEUs at the port in 2014,from 433,000 TEUs in 2008. [Photo/China Daily]
COSCO insists deal will bring more jobs, economic prosperity to European nation
Greece's new government has halted the privatization of the country's biggest port Piraeus, a state selloff in which China Ocean Shipping (Group) Co had already expressed a strong interest.
COSCO, the world's second-largest shipping company, and four other suitors were seen as potential buyers of a 67 percent stake in Piraeus Port Authority OLP last year under the plan agreed by the previous government.
The head of COSCO's media office in Beijing said the company was closely following the Greek government's move on Tuesday and that it still wished to compete in the deal.
Chen Yingming, executive vice-president of Shanghai-based China Port and Harbors Association, hoped that the newly elected Athens government would reconsider its decision on Piraeus, and seek what he called effective solutions from COSCO to create more jobs, adding that current market conditions strongly favored a privatization of select Greek state-owned assets.
"Piraeus Port will definitely become a gateway for China's trade and investment to Europe if this deal can be sealed by the Chinese company," said Chen.
"The Greek government should be aware that developing its port business with COSCO means more Chinese investment can be made in infrastructure and related service projects in Greece."
COSCO Pacific Ltd, a subsidiary of COSCO Group, the fifth-largest container terminal operator in the world, has already invested 4.3 billion euros ($5.9 billion) in a 35-year management lease for the No 2 and No 3 piers at Piraeus Port, which it has been operating since June 2010.
Piraeus Container Terminal, part of COSCO Pacific, signed a revised investment agreement in November which will see a further 230 million euros invested to increase the port's annual capacity.
Commentators have said that the continued expansion will help the port become a major gateway on the Silk Road Economic Belt connecting Asia to Europe and provide more job opportunities to local workers.
Container traffic soared 18.5 percent at the Greek port last year to nearly 3 million twenty-foot equivalent units, a near nine-fold increase on the 433,000 TEUs handled in 2008.
Greece's Prime Minister Alexis Tsipras has just named a new cabinet of what commentators are describing as anti-austerity veterans, indicating he aims to stick to his election pledges despite warnings from the eurozone and financial markets.