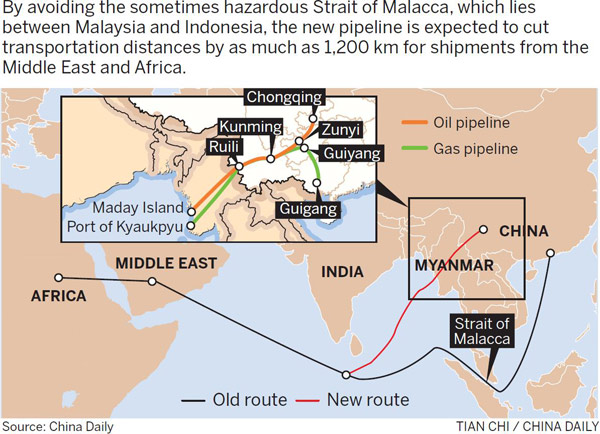 China's energy supply security was strengthened further on Wednesday when a crude oil pipeline linking the country's southwest and Myanmar's coastal city of Kyaukpyu began operating.
On Friday, a 300,000-ton oil tanker will arrive at the deep-sea port of Maday Island in the city, which lies off Myanmar's western coast.
"The new pipeline will serve as an alternative route for China's crude oil imports from the Middle East, and will greatly save time on such crude deliveries," said Li Li, research and strategy director at ICIS-C1 Energy, a consultancy in Shanghai.
She said up to 30 percent of delivery time will be saved with completion of the pipeline. More important, China will be less dependent on the Strait of Malacca.
At present, about 80 percent of China's crude imports have to pass through the strait.
"The safety level of pipelines is much higher than for sea shipments, which will ensure a stable energy supply to China," Li said. "The economic benefits will grow as deliveries increase."
According to China National Petroleum Corp, the pipeline's Chinese operator, the new link has an annual capacity of 22 million metric tons. The pipeline runs for 771 km in Myanmar and 1,631 km in China.
Total investment in the pipeline and the Maday oil unloading terminal was about $2.45 billion, with $1.20 billion coming from Myanmar and $1.24 billion from China.
Following an agreement reached by Myanmar's Ministry of Energy and CNPC, the two countries started to build crude and gas pipelines in 2010. The natural gas pipeline became operational in late September 2013.
Li Boqiang, director of the China Center for Energy Economics Research at Xiamen University, said that as China's natural gas consumption soars to meet domestic demand and reduce carbon emissions, diversified channels are needed for energy imports.