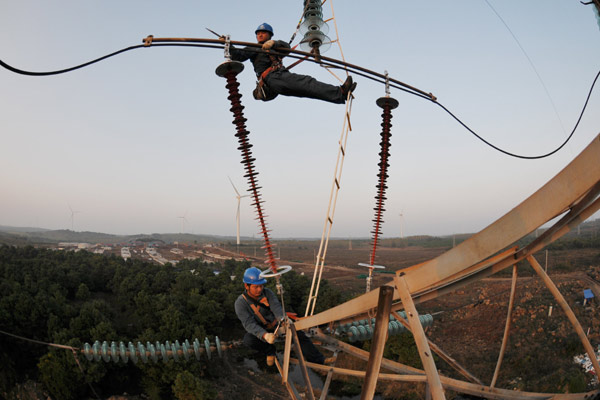 Workers check power transmission lines in Mingguang, Anhui province. [Photo provided to China Daily]
With the big downward pressure on the economy, 26 out of the 31 provincial regions in Chinese mainland have lowered their gross domestic product (GDP) growth targets for 2015, Chinanews.com reported Thursday.
Among the 28 provinces that have revealed their GDP targets, only Tibet in Southwest China kept its new target equal with that of last year at 12 percent, and Shanghai municipality even scrapped the target number.
The capital Beijing lowered the growth target to 7 percent, from 7.5 percent last year. The biggest cut was by 3 percentage points, coming from Northeast China's Liaoning, North China's Shanxi and Northwest China's Gansu provinces.
The economy's big downward pressure was the main reason for cities to cut the GDP growth targets for 2015, as China recorded a 7.4 percent GDP growth in 2014, the slowest in 24 years.
Many provinces missed their targets for 2014. Shanxi's 2014 growth was 4.9 percent, greatly missing its forecast of 9 percent; and Liaoning's GDP increased 5.8 percent, lower than its target of 9 percent in 2014.
Cities' move to lower the GDP growth targets actively adapts to the "new normal", as China's economy shifts from high speed development to slower speed, the report said.
The "new normal" means slower growth rate but higher quality, and China will strive to keep economic growth and policies steady in 2015 and adapt to the "new normal", said a statement released after the Central Economic Work Conference concluded on Dec 11, 2014.
Gross Domestic Product, also known as GDP, is commonly used as an indicator to measure the economic output of a whole country or region.
Related Story:
Confidence in Chinese, regional economies increasingly hinge on reforms by Xinhua
Confidence in Chinese, regional economies beyond the short term increasingly hinges on progress of reforms in China while acceptable slower growth leaves space for sustainable development, analysts and economists said.
Slower growth will still be "acceptable and still sufficient to support growth around the region," said Song Seng Wun, a regional economist with CIMB Research, a research arm of the Commerce International Merchant Bank (CIMB).