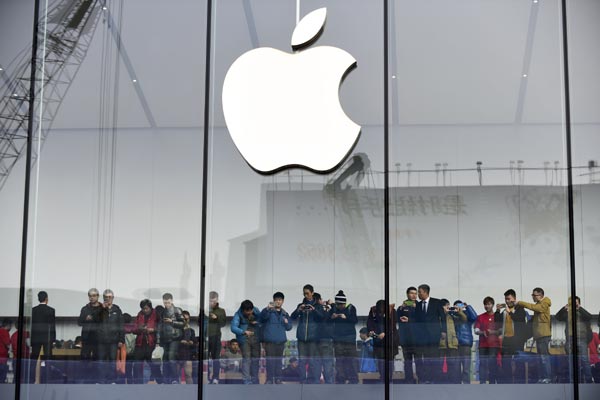 Apple Inc opened its 14th store on the Chinese mainland in Hangzhou, capital of Zhejiang province, on Jan 24, 2015 . The company sold most handsets in the fourth quarter of 2014 in China, an achievement even the late Steve Jobs could not manage during his glory days. [Photo/China Daily]
Expansion of 4G infrastructure network driving large-screen handset sales
It turns out Chinese buyers like Apple Inc's idea of making smartphones with bigger screens.
Thanks to the huge popularity of the iPhone 6 and 6 Plus, the company was the biggest seller of handsets in the fourth quarter in China, something that even the late Steve Jobs could not do during his glory days, according to research firm Canalys.
Given that the average selling price of Apple's handsets is nearly double those of its nearest competitors in the country, it was an amazing result.
Apple sold 74.5 million iPhones worldwide in its fiscal first quarter, which ended on Dec 27. Stellar iPhone 6 sales drove Apple's China revenues up 70 percent in the quarter year-on-year, according to the United States-based company.
"We are a big believer in China," said Chief Executive Officer Tim Cook in a conference call. "I think people there love Apple products."
Canalys attributed Apple's success to the rapid expansion of the fourth-generation telecom infrastructure, saying faster Internet connection speeds made video streaming easier and fueled large-screen handset sales.
A well-executed launch and a clampdown on gray sales channels for its products also boosted its sales, Canalys said.
The top four vendors in China during the quarter were Apple, Xiaomi Corp, Samsung Electronics Co Ltd and Huawei Technologies Co Ltd, it said, without giving exact shipment numbers.
Apple has no time to rest on its laurels, however. An array of local brands, and the struggling but still powerful Samsung, are all eyeing the top position in the world's biggest smartphone market.
Wang Jingwen, a Shanghai-based Canalys analyst, said a large factor in Apple's success was the latent demand for the iPhone 6 series. Thus, it was natural that the past quarter was one of unprecedented levels of demand.