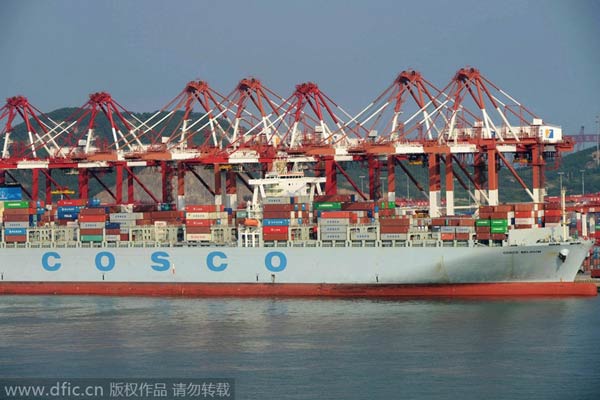 A fully-loaded container ship of COSCO departs from the Port of Qingdao in Qingdao city, East China's Shandong province, August 8, 2014. [Photo/IC]
China urged Greece on Friday to honor an investment contract made with Chinese shipping giant China Ocean Shipping (Group) for a 35-year concession on two piers at Greece's biggest port, Piraeus.
The new Greek government, elected on Sunday, announced a shock decision this week to halt privatization of the Mediterranean logistics hub.
Chinese Foreign Ministry spokeswoman Hua Chun-ying said Beijing welcomed a statement by the Greek administration to respect contracts with COSCO and to explore the possibility of future cooperation.
She said the development of Piraeus port has become a "model case" in Sino-Greek cooperation, which will bring deeper engagement between the two countries. Hua urged the two sides to better communicate on the issue and transform Piraeus into a first-class global port.
The Greek deputy minister of maritime transportation said earlier on Friday that Athens will observe existing contracts with COSCO.
The halt to the privatization of Piraeus, the biggest port in the Mediterranean, was announced by Greece's new hard-left Prime Minister Alexis Tsipras.
COSCO Pacific, a subsidiary of COSCO Group, the fifth-largest container terminal operator in the world, has invested 4.3 billion euros ($4.8 billion) on a 35-year management lease for the two piers at Piraeus port, which it has been operating since June 2010.
It has also expressed an interest in the sale of 67 percent of the port authority, a move proposed by the previous, conservative government in Greece, but which is now clouded by doubt.
Development of the port is of strategic importance to China, as the country is seeking to funnel exports to Europe through a planned "corridor" linking Beijing with the continent via Piraeus, which could reduce transportation times significantly.
Piraeus is one of the largest container ports in Europe and an important entry point for Chinese products.
Cui Hongjian, a researcher of European studies at the China Institute of International Studies, said it is still too early to say if the new Greek government's decision is aimed at China.
As more Chinese investors are looking overseas, Cui said, they face increasing political and legal risks abroad. "The cause of some incidents are deep-rooted, and this requires Chinese companies to better understand local politics, economy and culture.
"Sometimes, it's not all about money, but Chinese companies have to integrate themselves into a society," Cui said.