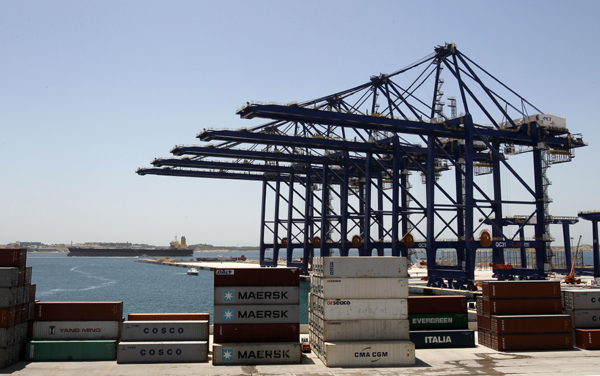 Newly installed container cranes are seen at the Piraeus Container Terminal, operated by Chinese State-owned shipping giant Cosco, near Athens. AP
Top Chinese shipping firm looking to buy majority stake in largest port in Greece
China Ocean Shipping (Group) Co, the world's second-largest shipping company, has been shortlisted as a potential buyer to acquire a majority stake in Piraeus Port Authority SA, the largest port in Greece.
The State-owned company will compete with four other suitors, Reuters reported, citing sources from the Greek privatization agency Hellenic Republic Asset Development Fund.
COSCO is expected to submit its investment proposal after Athens decides what steps it wants to follow in the privatization of Piraeus and Thessaloniki, two of the largest ports in Greece, according to HRADF, a privatization agency owned by the Greek government.
COSCO officials declined to comment on the issue or provide any further details when contacted by China Daily on Friday.
Piraeus Port is one of the largest seaports in the Mediterranean Sea basin and among the top 10 container ports in Europe. It has more than 1,500 employees and provides various services to more than 24,000 ships every year.
The Chinese company, however, faces stiff competition from its rivals like the Dutch and the US container terminal operators APM Terminals and Ports America, British investment company Utilico Emerging Markets Ltd and the Philippines-based International Container Terminal Services. Binding offers for the port are expected to be submitted by the bidders by the end of the year.
Chen Yingming, executive vice-president of the China Ports and Harbors Association, however, said that the shipping industry would continue to face tough times due to the stiff competition among international shipping giants. Strategies like forming alliances and offering lower shipping rates will affect the profitability of the sector in the long run, he said.
"But it is a good time to invest in the port business, as asset values have fallen sharply," Chen said.
COSCO Pacific Ltd, a subsidiary of COSCO Group, the fifth-largest container terminal operator in the world, has already made a substantial investment in the Piraeus port. It spent 4.3 billion euros ($5.9 billion) on a 35-year management lease for the No 2 and No 3 piers, which it has been operating since June 2010.
The Chinese company invested an extra 230 million euros in 2013 to enhance the port's cargo handling capacity over the next seven years, including building a new pier and almost tripling the volume of cargo that the port can handle. "Port investment will help COSCO strengthen its industry chain and reduce its container-shipping costs," said Dong Liwan, a professor at Shanghai Maritime University.
To enrich its port business in Greece, COSCO has started freight shipments for computer maker Hewlett-Packard Co and Chinese networking major Huawei Technologies Co from its terminal in the Piraeus port to destinations in the Czech Republic and Hungary.