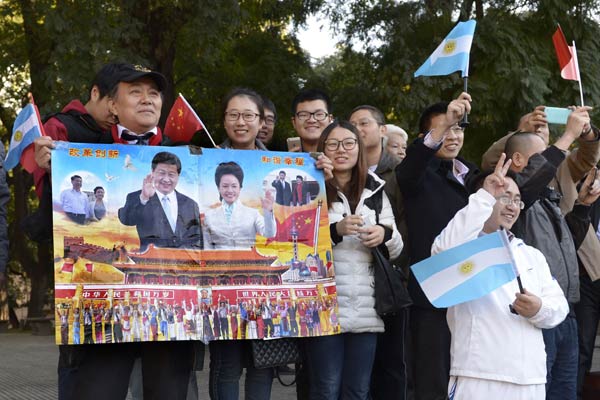 Members of the Chinese community in Buenos Aires welcome President Xi Jinping during a wreath-laying ceremony to honor the Argentine hero General Jose de San Martin on Saturday. JUAN MABROMATA/AGENCE FRANCE-PRESSE
For COSCO Shipping, the world's largest fleet of specialized carriers and multipurpose vessels, a new leg in its pan-Latin America journey has begun.
With tons of construction materials shipped to Port of Bahia Blanca, Argentina; hydropower equipment bound for infrastructure projects in Chile; and a large amount of Brazilian soybeans transported by bulk vessels to China's Qingdao port, the presence of the company, owned by China Ocean Shipping (Group) Co, has expanded to eight Latin American countries this year.
Han Guomin, COSCO Shipping's general manager, said the continent's hunger for new trade opportunities, infrastructure improvements and another round of industrialization have pushed eager manufacturers from China and other parts of the world to load their products onto ships heading to Latin America.
The driving force behind this is Latin America's growing economy, which is fueled by an abundance of commodity products and natural resources, and its growing need for improved public services, infrastructure, energy, communications, manufacturing and agricultural development in rural and urban areas.
COSCO Shipping entered Latin America in the 1960s, when China began to increase commodity and agricultural product trade with the continent, as well as ship garments and primary industrial goods to major Latin American markets.
With more than 100 ships worldwide, including heavy lift vessels, vehicle carriers, asphalt tankers and lumber carriers, COSCO Shipping has deployed 20 vessels between China and Latin America, with six ships operated on the route each month.
Thanks to China's surging vehicle trade with Venezuela, Brazil, Uruguay and Argentina in recent years, the company's China-Latin American route has seen rapid growth in maritime vehicle transportation. Its business rose 45 percent year-on-year in 2013. It also has customers in South Korea and Japan who want to deliver their vehicles to Latin America.
One of COSCO's biggest shipping assignments this year was the contract to transport more than 1,000 rail products including locomotives, trams, and freight and passenger cars to Brazil and Argentina within two years.
The carrier also sealed deals to transport wind turbines, wind power systems, mechanical and electrical products, as well as construction materials for building new power plants, cement and sugar refinery factories, and other projects throughout Latin America this year.
To improve local service, the company works with various representatives employed by COSCO Group, its parent company, to assist its local business such as sales, customs clearance, road services and business promotion.
Latin America has enormous demand for port construction, waterway dredging and energy development, as well as roads and the expansion of towns - a demand that has been increasing rapidly over the past seven years. The China Chamber of International Commerce in Beijing has predicted favorable conditions to boost shipping in this developing and dynamic market into the next decade.