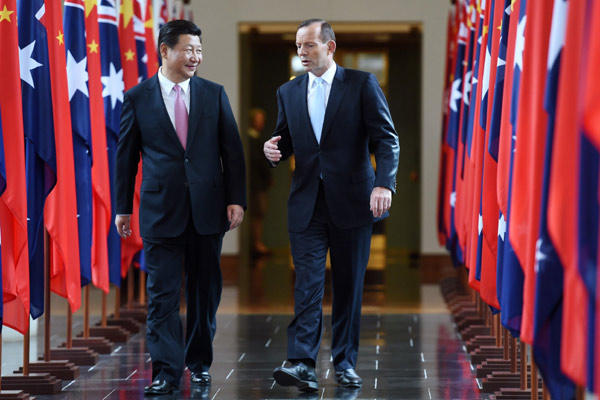 President Xi Jinping and Australian Prime Minister Tony Abbott walk from Australia's House of Representatives chamber at Parliament House in Canberra on Monday. [Photo / Agencies]
To an increasing number of Australians, how to balance their country's relations with the United States and Japan on the one hand, and with China on the other, is a paradox. An opinion poll released last week may provide a practical solution for Canberra as it looks to navigate its way around the sensitive issues involving Beijing, Tokyo and Washington.
The results of a survey revealed on Jan 6 by the Australia-China Relations Institute at the University of Technology, Sydney, shows 71 percent of those polled believe Australia should remain neutral in any conflict between China and Japan over disputed territories in the East China Sea.
The poll, conducted in December, focused on attitudes toward the dispute between China and Japan over the Diaoyu Islands in the East China Sea. One of the questions it asked was: In the event of a war over the islands, if the US president rang the Australian prime minister to ask Australia to join the Japanese and Americans, what should he say?
According to the majority of respondents, 68 percent, he should say that Australia remains neutral and will not make a military commitment.
There is nothing wrong with Australians wanting their country to remain neutral if China and Japan come to blows over the islands. And certainly it will not serve Australia's interests if it makes a military commitment.
Considering the military alliance between Australia and the US and the US' alliance with Japan, the poll perhaps should prompt Canberra to handle its relations with the US, China and Japan in a more prudent and skillful way.
As a Sydney Morning Herald article has shrewdly pointed out, the results of the new poll comes as Canberra prepares to spend billions on sophisticated submarines, with Japan heavily tipped to be a supplier, and there have been signs since last year that the Australian government is trying to deepen its military ties with Japan.