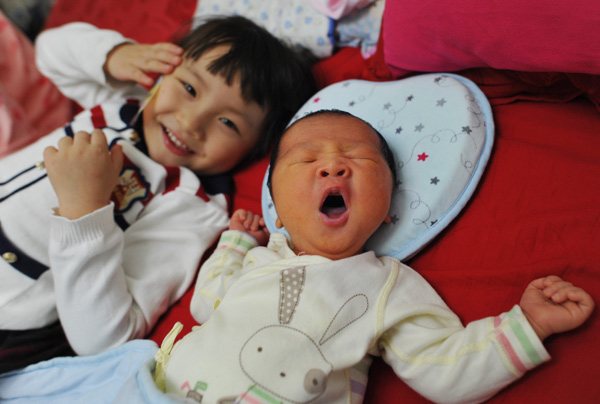 A girl plays with her newborn brother at a hospital in Nanjing, Jiangsu province,on Oct 24. 2014. [Photo/CFP]
The latest change in the family planning policy which allows couples to have a second child if one (or both) of them is the only child of his/her parents is just more than a year old. The rationale of the policy shift was to ensure the "long-term balanced development" of the population in the face of projections of further decline in the fertility rate, a shrinking of the overall population and rapid aging. It was forecast that the change would lead to an extra 1 million to 2 million births per year.
Figures from the National Health and Family Planning Commission suggest that by the end of December nearly 1 million couples had sought permission to have a second child, and about 920,000 of them had been given the go-ahead. However, many forecasts from around the country are being made smaller, and there is much uncertainty about how many of these couples will actually go on to have their second child.
In some ways, this should come as little surprise. National and local surveys have repeatedly shown that many couples intend to have only one child despite being eligible to have a second. The stated reasons for this preference for small families are consistent: economic pressure. This can be divided into "direct" and "indirect" costs.
Direct costs related to the everyday costs of living and, of particular concern to parents in surveys, the cost of educating their children. The indirect costs - which can exaggerate the direct costs - revolve around the lost income and the impact on the career of many couples, usually women.
While a lucky few in the (upper) middle class can afford these costs (and, indeed, may well have chosen to pay the "social maintenance fees" associated with breaking the family planning policy before the reform), for many it is a simple trade-off between the number of children and the amount that can be "invested" in them.
But what about the future? Before the latest reform in the family planning policy, questions were asked about why a national two-child policy was not implemented. The main reason given was that there was a fear of a "baby boom" which could put strain on public and social services and lead to unbalanced population growth. A year on, it seems those fears could be misplaced.