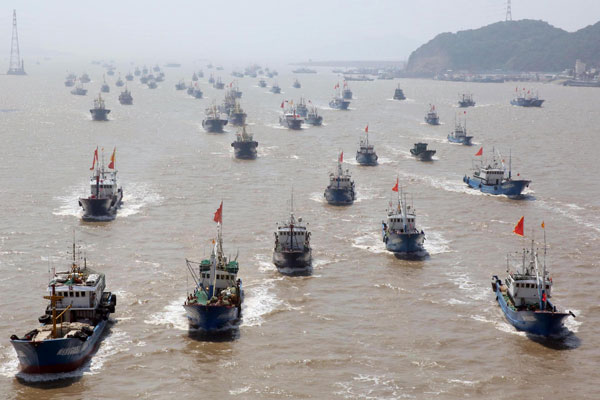 Fishing vessels set out from Shenjiamen Port in Zhoushan city, East China's Zhejiang province, Sept 16, 2013. A total of 3,000 fishing boats in Zhoushan re-started operations on Monday as the three-month fishing ban in East China Sea came to an end. [Photo/Xinhua]
Despite the low profile and low-level nature with no substantial results, that Chinese and Japanese defense and maritime officials did meet and talk means a lot.
To both Beijing and Tokyo, of course, but also to the disunited Asia-Pacific. And to all who have had their eyes on the East-Asian impasse with pre-WWI Europe in mind.
That this occurred, amid and alongside the persisting tensions between Chinese and Japanese diplomatic, military and maritime institutions, sends a consoling message: Neither Beijing nor Tokyo wants to see things worsen further.
The past two days of talks in Tokyo were just in time. With the two governments at loggerheads, multiple recent opinion polls in both countries have confirmed that goodwill at the people-to-people level is rapidly wearing thin.
If the diplomatic exchange of verbal swords is unconstructive, the military tit for tat activities in the air and at sea are dangerous. In the two militaries' frequent trade of "emergency responses", neither side can guarantee everything remains under control. From the perspective of crisis control, the dialogue on "maritime emergency contact mechanisms" is conducive to defusing that clear and present danger.
The need has grown more imperative lately, because, just like in the tense standoff around and over the Diaoyu Islands and in the East China Sea Air Defense Identification Zone, Japan has been over-reacting to the People's Liberation Army Navy's growing presence in the West Pacific, though the PLA is acting in accord with international laws and norms.
If the proposed hotlines can eventually be established between the two countries' military and maritime authorities, it will be a strong guarantee that the two countries do not have to face the widely feared worst-case scenario unless they choose to.
Mutual distrust runs so deep and broad between Beijing and Tokyo that an instant thaw in ties is unrealistic. But any worsening of their relationship may prove damaging to both. The two sides must engage in joint crisis control.
Restoration of the consultations between the two countries' defense and maritime officials, discontinued in the aftermath of Tokyo's 2012"nationalization" of the main Diaoyu Islands, has inspired statements that bilateral ties have sailed past the worst difficulties.
But when it comes to China-Japan relations diplomatic rhetoric should always be taken with a grain of salt. This is especially important as the Shinzo Abe administration continues to churn out self-contradictory messages about history, peace, and relations with neighboring countries.