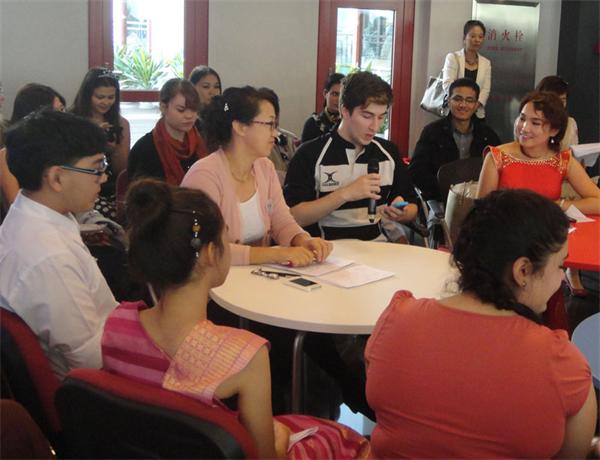 Foreign students studying Chinese share their stories at the headquarters of Confucius Institute in Beijing on Saturday. [Photo by Xu Pingting/chinadaily.com.cn]
A decade ago China began opening centers abroad called Confucius Institutes to share its culture and language with the rest of the world. Today, there are more than 300 Confucius Institutes in more than 90 countries, and China aims to establish 1,000 Confucius Institutes by 2020.
The Chinese government's funding for Confucius Institutes is $100,000-200,000 a year on many campuses, and sometimes more, and the institutes are growing rapidly. In 2013 the funding totaled $278 million, more than six times that of 2006.
A chorus of concern has risen recently on whether universities have entered into arrangements with China that might compromise their academic integrity and independence. Some academics are calling for Confucius Institutes to hold lectures and forums on sensitive Chinese topics. The Confucius Institutes' response: this is not their focus or role.
But in the United States and across the rest of the world, Confucius Institutes are building bridges rather than Great Walls to share knowledge about the history, culture and language of a rising world power which has been in the shadows. They are mysterious no longer - helping to cement the "people-people" relationship between nations in the hope of shaping a better 21st century.
The Confucius Institutes have provided a focal point for people to learn about Chinese language and culture. Hundreds of these institutes are today in nearly every corner of the globe, becoming a springboard for cultural exchange as well as a bridge reinforcing friendship and cooperation between China and the citizens of the world.
Clearly the Chinese are not content to let their country remain the factory of the world. On multiple planes, they are striving and succeeding in reclaiming their status as a cultured, educated, innovative nation. Why would they not want to share this with the world?